Aug-20-13 Christie Administration Awards Skills4Jersey Grant to South Jersey Manufacturer
Contact:
Brian T. Murray:
TEL: 609.984.2841
FAX: 609.777.3634
Email: MediaCalls
| | | |
| --- | --- | --- |
| | -News Release- | |
VINELAND, N.J., AUGUST 20, 2013 – Christie Administration officials today visited Precision Electronic Glass, a glass and quartz components manufacturer in South Jersey who was awarded a $40,800 Skills4Jersey grant to enable the company to train and upgrade the skills of its employees.
"The Christie Administration is committed to facilitating job creation by focusing our training grant programs on New Jersey's key industry clusters. The entire state benefits when workers develop skills that make them more employable and, at the same time, keep key employers such as Precision Electronic Glass competitive in the global marketplace," said Harold Wirths, Commissioner of the Department of Labor and Workforce Development (LWD).
While visiting the company, Assistant Commissioner Jeff Stoller presented Albert Karwowski, vice president and CFO of Precision Electronic Glass, with a framed letter announcing that the company had been selected to receive a $40,800 Skills4Jersey grant. Assistant Commissioner Stoller praised the company for partnering with the New Jersey Department of Labor and Workforce Development, as well as with Cumberland County College, which developed customized courses to provide training for Precision Electronic Glass employees.


Skills4Jersey training grants are part of the recently overhauled customized training grant program that focuses on allowing the Garden State's key industries to identify the skills they need to find in employees and insuring the workforce is trained with those skills. The approach improves the employability of job-seekers while helping the productivity of the industries in New Jersey that promise to drive the state's economic future.
The grant will train 75 Precision Electronic Glass employees in areas that will improve efficiency and effectiveness, including Six Sigma techniques and strategies for process improvement, mechanical drafting and blue print reading, general business administration, accounting, and management information systems.
Skills4Jersey is one of three Hire New Jersey initiatives the Christie Administration announced following the devastation of Superstorm Sandy to assist private sector New Jersey employers and to increase employment opportunities for qualified unemployed workers. The other two programs are Recovery4Jersey and Opportunity4Jersey. For information about Skills4Jersey go to: http://lwd.dol.state.nj.us/labor/forms_pdfs/NGO/SKILLS4JERSEY.pdf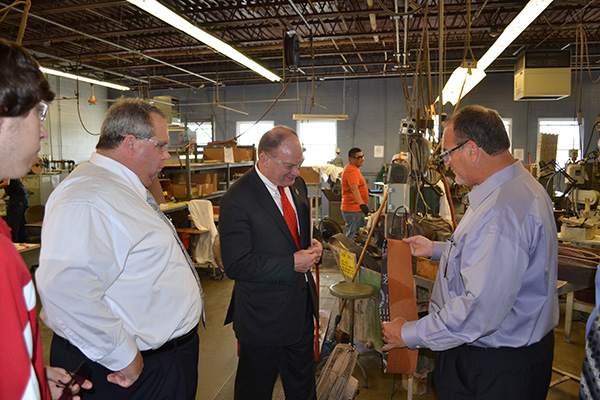 Assistant Commissioner Jeff Stoller (center) visited Precision Electronic Glass in Vineland to
highlight the Skills4Jersey grant the company received. Each of the company's 75 employees
will be trained under the grant. Above, Howard Miller (left), LWD's Chief of the Customized
& Literacy Training program, joined Assistant Commissioner Stoller on the tour as Precision
Electronic Glass President Philip Rossi (right) explained how cork helps to smooth the glass
surfaces.