Sep-05-13 Christie Administration Highlights Success of Workforce Training Program during Visit to Holt Logistics
Contact:
Brian T. Murray:
TEL: 609.984.2841
FAX: 609.777.3634
Email: MediaCalls
| | | |
| --- | --- | --- |
| | -News Release- | |
GLOUCESTER CITY, SEPTEMBER 5, 2013 – The Christie Administration today joined the New Jersey Business & Industry Association (NJBIA) and the New Jersey Community College Consortium in a tour of Holt Logistics Corp., highlighting the Garden State's lucrative transportation, logistics and distribution industry as well as the success of a joint program designed to help businesses to upgrade the basic skills of their employees.

Commissioner Harold J. Wirths of the state Department of Labor and Workforce Development, which manages funding for the New Jersey Basic Skills Workforce Training Program, visited a class of employees undergoing the training at Holt through the College Consortium and NJBIA. The large, family-owned company, which owns the Gloucester Marine Terminal and has separately managed affiliates operating Philadelphia's Packer Avenue Marine Terminal among other ventures, is a large manager of port, warehousing and logistics operations.

"Holt is a key employer in our state and part of a very important industry cluster for New Jersey. Transportation, logistics and distribution companies in the Garden State contributed $56.3 billion to the state's Gross Domestic Product last year and pays about $24 billion in wages annually. We're delighted to partner with the NJBIA and College Consortium in a program that helps companies such as Holt to improve the workforce productivity of its employees and upgrade their skills," said Commissioner Wirths.

Holt has participated in the Basic Skills program since 2011, training 274 of its employees to date with new classes scheduled for this month and next month. The training has included computer, customer service and communication skills. Future classes will include using Spanish in the workplace.

"It is essential for employees to learn new workplace skills if New Jersey employers are going to remain competitive," said Philip Kirschner, president of the New Jersey Business & Industry Association. "That's why the training program at Holt Logistics, and others like it, is so important. The Department of Labor and the County College Consortium have done an excellent job structuring these programs to ensure that employers have access to a well-trained work force."

The concept of the public-private partnership behind the Basic Skills program was developed by the NJBIA, and it was launched in 2007 in concert with the LWD and the state's 19 community colleges through the New Jersey Community College Consortium for Workforce and Economic Development. To date, the program has assisted 3,527 New Jersey companies and trained a total of 50,252 employees.

"As we enter the seventh year of this program, we thank New Jersey's Department of Labor and NJBIA for their unwavering support to increase the productivity and competitiveness of New Jersey's businesses and employees through our basic skills training. One of the greatest benefits of this program is our reach to small businesses who usually are unable to get training grants on their own. Through our community colleges we offer open enrollment courses under this grant whereby many companies can send their employees for training and get these benefits," said Sivaraman Anbarasan, Executive Director of the College Consortium.

Transportation, logistics and distribution businesses are among seven key industry clusters around which the Christie Administration has developed Talent Networks, which are designed to help employers identify for educational institutions, training providers and policy makers the exact skills that will enable job-seekers to obtain employment in New Jersey's leading industries. Simultaneously, the effort helps companies to remain competitive in a global market.

"The Transportation, Logistics and Distribution Talent Network acts a strategic partner to employers, educators, training providers, job-seekers, workforce investment boards and other New Jersey stakeholders with the ultimate goal of connecting employers with qualified job seekers and putting people to work in the TLD industry, which is projected to grow in excess of 20 percent by 2020," said Anthony Campo, Director of the state Transportation, Logistics and Distribution Talent Network.

Holt has been in business since 1926, with the Holt family tracing their transportation roots in the Philadelphia area to the drive and ambition of founder Leo Holt, who began modestly with the acquisition of a single truck and grew his business. The company now oversees several separately managed companies with an estimated 1,250 employees.

For more information about the Basic Skills Workforce Training Program, visit:
http://www.njbia.org/basicskillssuccess.aspx.

For more information on New Jersey's Talent Networks, visit: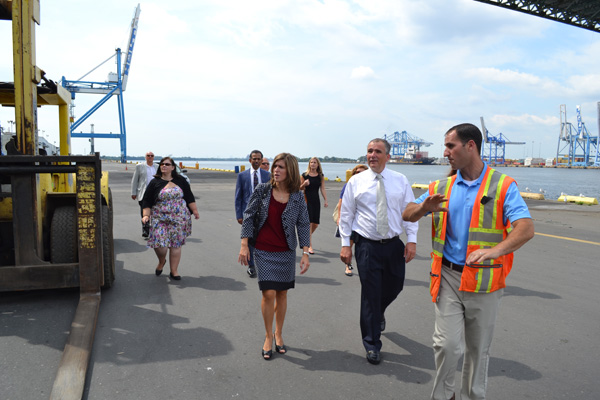 Labor Commissioner Harold J. Wirths (center) and Stefanie Riehl of the New Jersey Business
& Industry Association (center-left) joined other NJBIA officials and members of the New Jersey
College Consortium in a tour of Holt Logistics on the banks of the Delaware River. Leading the
group (right) was P.J. Inskeep, manager of operations for Holt.