Sep-09-13 Christie Administration Helps Launch Monmouth County Greenhouse Farm That Employs New Jerseyans With Disabilities
Hydro Sun Farms Grows "Jersey Fresh" Produce and Provides Training and Jobs for People with Disabilities
Contact:
Brian T. Murray:
TEL: 609.984.2841
FAX: 609.777.3634
Email: MediaCalls
| | | |
| --- | --- | --- |
| | -News Release- | |
ATLANTIC HIGHLANDS, N.J., SEPTEMBER 9, 2013 _ Labor Commissioner Harold J. Wirths cut the ceremonial ribbon outside Hydro Sun Farms today, as members of the Christie Administration helped officially open the not-for-profit hydroponics operation that employs and trains workers with disabilities.
Hydro Sun Farms, which was launched through grants from the state Department of Labor and Workforce Development, already has four employees and three trainees who worked this summer growing vegetables, fruits, plants and herbs using hydroponic techniques - a farming practice that uses mineral nutrient solutions and water, not soil. It is operating under a five-year lease agreement, using three greenhouses on the Windmill Acres Farm in Atlantic Highlands owned by Walter and Alice Andersen.
"The goal is to establish a self-sufficient business that also offers employment opportunities for people with disabilities, allowing them to develop skills that will expand their future employment opportunities. This is the first project of this magnitude in the Jersey Shore area, and we are genuinely excited about its prospects for success," said Labor Commissioner Wirths. "I congratulate Hydro Sun Farms on its grand opening and I look forward to hearing more about the harvest of Jersey Fresh produce that will be available to residents, stores, and restaurants in this community."
The Hydro Sun Farms concept began as a work project idea developed in 2011 by staff in the Labor Department's Division of Vocational Rehabilitation Services (DVRS) working in Monmouth County. The Labor Department provided a $150,000 grant last year to DVRS consumers involved in the start-up of Hydro Sun Farms, which was established as a nonprofit. The funds were used to retrofit two greenhouses with hydroponic equipment, and work has been continuing on a third greenhouse. The overall project was largely completed this summer with another $50,000 grant.
"This project builds on New Jersey's philosophy of 'Employment First' for people with disabilities, which expresses our conviction that employment is vital for everyone," said Department of Human Services Commissioner Jennifer Velez. "The job opportunities that are created through Hydro Sun Farms will assist individuals with disabilities in developing practical skills and on-the-job experience to build a foundation for long-term employment."
Hydroponics farming is considered a more environmentally sound method of farming because it uses a fraction of the water required to irrigate a conventional soil-based farm and it often yields higher results because hydroponics uses a continuous flow of nutrients to the crops. That flow allows the plant to concentrate its energy on producing fruit rather than roots.
The greenhouses used at Hydro Sun also shields plants from harsh and damaging weather, and run-off water is recycled within the hydroponic system rather than allowed to flow into streams. Additionally, machinery and vehicle emissions are eliminated because there is no need for plowing or digging.
"Hydro Sun Farms, growing high-quality Jersey Fresh produce, is a wonderful addition to New Jersey's innovative and diverse agriculture industry," said New Jersey Assistant Secretary of Agriculture Al Murray. "The project also calls attention to the increasing job opportunities available in agriculture."
The first crops harvested by Hydro Sun Farms earlier this summer included basil, lemon basil, and lettuce – some of which has already been used for demonstrations and to market the project. The rest has been sold for profit.
"I want to thank all of the Department of Labor staff who played a part in advancing the concept of Hydro Sun Farms," said Commissioner Wirths. "This project will help our consumers to gain skills that may transfer to even more job opportunities."
For more information about Hydro Sun Farms, go to http://hydrosunfarmsorg.comcastbiz.net/contact-us.shtml. For more information about the programs and services under the New Jersey Labor Department's Division of Vocational Rehabilitation Services, go to http://careerconnections.nj.gov/careerconnections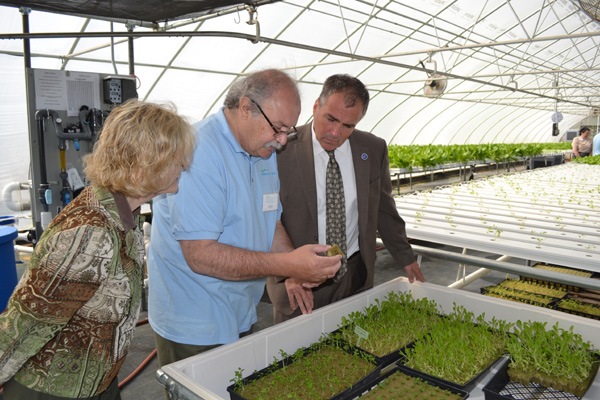 New Jersey Labor Commissioner Hal Wirths visited Hydro Sun Farms in Atlantic Highlands to highlight a grant the department awarded to the Hydro Sun Farms organization, which employs and trains workers with disabilities in hydroponics farming techniques. Hydroponics uses a water nutrient solution instead of soil to grow vegetables, plants, fruits, and herbs. Above, Charles Tucceri (center), President of Hydro Sun Farms shows Commissioner Wirths (right) and Alice Hunnicutt, LWD Director of Vocational Rehabilitation Services, the beginning stages of the hydroponic growing process.