Sep-24-13 Christie Administration Joins Hall of Fame Coach To Inspire "Jersey Job Club" Members in Essex County
Employment Initiative Reaches 42,000 Job-Seekers To Date
Contact:
Brian T. Murray:
TEL: 609.984.2841
FAX: 609.777.3634
Email: MediaCalls
| | | |
| --- | --- | --- |
| | -News Release- | |
EAST ORANGE, N.J., Sept. 24, 2013 – Bob Hurley, the legendary Hall of Fame high school basketball coach, gave a motivational speech today to about 100 people who joined a meeting of a "Jersey Job Club," one of 23 structured job-search organizations that have become a national model since the Christie Administration launched them last year to help the unemployed develop more effective job-search techniques.
Mr. Hurley, the head coach at St. Anthony's High School in Jersey City, is one of only three boys high school basketball coaches to ever be honored by the Naismith Memorial Basketball Hall of Fame. He was invited to speak to the job-seekers about self-motivation and improving the success of their "game" in landing employment and achieving personal goals.
"This is the type of inspirational and informative session that has made Jersey Job Clubs a national model after only a year. We created 23 of these clubs from Atlantic and Cape May counties to Sussex County, and they have already brought in 42,000 members who want to hone their abilities to meet with employers and jump start new, lucrative careers," said Harold J. Wirths, Commissioner of the state Department of Labor and Workforce Development (LWD).
Commissioner Wirths attended the Jersey Job Club meeting held at the Essex County One-Stop Career Center, and he visited employers who joined a job fair hosted at the site after Coach Hurley's remarks to link job-seekers with businesses interested in hiring people. The 13 employers included companies involved in health care, transportation, real estate, security, and the pharmaceutical industry. The companies included Pfizer, Snapple, New Jersey Transit, Century 21, Urban League, and Custom Protective Services.
"I want to thank the employers who participated in the job fair today as well as Coach Hurley for sharing words of encouragement with job-seekers that they can use to help reinvigorate their job searches," Commissioner Wirths said.
Jersey Job Clubs routinely invite motivational speakers and employers to meet with its members in structured settings designed to offer people refreshing approaches and effective strategies toward finding new jobs. The Job Club at the One-Stop in East Orange has been very active, and previously hosted speakers such as John Bell, former radio personality on the popular Z100 Morning Zoo; Tim Bassett, former professional basketball player in the American Basketball Association and the National Basketball Association; and Debbie DuHaime, traffic reporter for Total Traffic reporting for AM970 and Channel 7.
Jersey Job Clubs operate out of the One-Stop Career Centers located throughout New Jersey and are open to all One-Stop customers. The job clubs host workshops each week, focusing on topics from interview preparation to and labor market data that can expose members the fastest growing industry sectors in the state.
Members are required to register with Jobs4Jersey.com, the state's premiere employment service website, and load their resume onto OnRamp – the high-tech job-search engine that links people to jobs by matching skills, not former job titles. More than 8,100 employers are registered on the site, which currently lists 353,778 job vacancies in New Jersey and within a 50-mile radius of the state.
For more information about Jersey Job Clubs go to:
http://careerconnections.nj.gov/careerconnections/.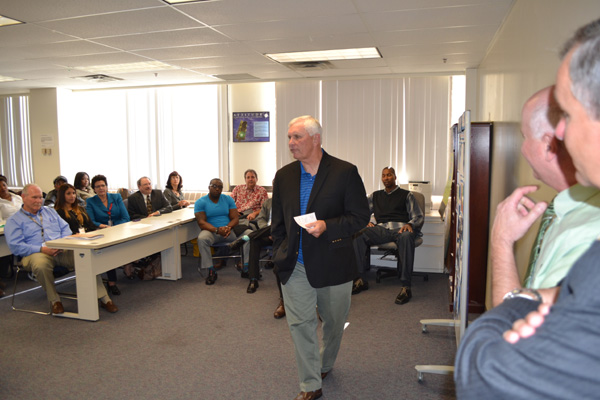 Hall of Fame Basketball Coach Bob Hurley (center) gave a motivational speech during a meeting of the Jersey Job Club at the East Orange One-Stop Career Center. He was joined by Labor Commissioner Harold J. Wirths (front, far right of photo) and retired NBA Player Anthony Avent (seated behind and to the right of Coach Hurley), who played with Malcolm X Shabazz High School in Newark and Seton Hall University before his six season professional career.



.