Oct-04-13 Christie Administration Celebrates National Manufacturing Day
Labor Commissioner Harold J. Wirths Kicks Off ManufactureNJ Week 2013
Contact:
Brian T. Murray:
TEL: 609.984.2841
FAX: 609.777.3634
Email: MediaCalls
| | | |
| --- | --- | --- |
| | -News Release- | |
NEWARK, N.J., OCT. 4, 2013 – The Christie Administration commemorated National Manufacturing Day at the New Jersey Institute of Technology (NJIT), where Commissioner Harold J. Wirths of the Department of Labor and Workforce Development (NJLWD) also kicked off ManufactureNJ Week to highlight the important economic impact manufacturing has in the Garden State.
"New Jersey has a long history of manufacturing, and this administration well understands the economic importance of the leaner, advanced manufacturing operations that have evolved over the past few decades. To keep the Garden State competitive in the volatile global market, we will continue to support the growth of our advanced manufacturing industry by helping to develop the high-skill talents that employers must find in our workforce," Commissioner Wirths said.
National Manufacturing Day was first observed last year, when New Jersey also launched the state's first ManufacturingNJ Week celebration, which included a series of company tours and open houses to demonstrate the products New Jersey makes and the sustainable careers to be found in the industry. ManufacturingNJ Week focuses heavily on advanced manufacturing, which refers to a leaner, more efficient system of operations that employs innovative technology to improve products and the manufacturing process.
Commissioner Wirths' remarks were part of a keynote address he gave at the ManufactureNJ Week kick-off at NJIT, where representatives from the New Jersey Manufacturing Extension Program, Inc. (NJMEP), the New Jersey Business & Industry Association (NJBIA) and the state's Advanced Manufacturing Talent Network joined to commemorate both National Manufacturing Day and ManufactureNJ Week. The Talent Network, known as ManufactureNJ or MNJ, is funded by NJLWD and sponsored by NJIT.
"NJIT will continue to play a significant role in reinvigorating advanced manufacturing in our region. We have the knowledge and expertise to prepare and/or partner with industry as well as other academic institutions to prepare the workforce through education and training and to support the R&D and product development processes," NJIT President Joel S. Bloom said. "With the support of the NJLWD, NJIT is leading the Advanced Manufacturing Talent Network and helping New Jersey companies find the employees needed to meet current demand and to continue to grow their businesses."
Commissioner Wirths presented Raymond Vaccari, director of the ManufactureNJ Talent Network, and Dr. Bloom with a proclamation from Governor Chris Christie pronouncing Monday, October 7 through Friday, October 11, 2013, as ManufactureNJ Week.
In 2012, nearly 135,000 workers in New Jersey were employed in industries classified as advanced manufacturing, representing more than half of all manufacturing employment in New Jersey.
ManufactureNJ is one of seven Talent Networks created by the Department of Labor to focus on the industry clusters that employ more than two-thirds of New Jersey workers and pay more than two-thirds of the wages paid annually. The Talent Networks are designed to have employers identify for educational institutions, employee training providers, state officials and job-seekers the relevant skills necessary for people to obtain employment opportunities in those major industry clusters.
In turn, the properly trained employees can help New Jersey businesses become more competitive and productive, which benefits the state's overall economy.
Six other Talent Networks have been created around the following industry clusters: Life Sciences; Transportation, Logistics and Distribution; Health Care; Financial Services; Technology and Entrepreneurship, and Retail, Hospitality and Tourism. Another Talent Network, Recovery New Jersey, is focused on addressing the needs of businesses impacted by Superstorm Sandy.
ManufactureNJ Week will build awareness by exposing businesses, job-seekers and students to educational and training opportunities, career paths and the jobs available in advanced manufacturing. It also helps communities to connect with the economic drivers in the manufacturing sector.
Planned events for ManufactureNJ Week include:
October 7: Versa Valves Plant Tour (to register for event, send email to ManufactureNJ21@gmail.com)
October 8: Essex County College Open House
October 9: NJIT Career Fair
October 10: Passaic County Technical Institute Event (by invitation only)
For more details on ManufactureNJ Week and each event, go to http://www.manufacturenj.org/content/manufacturenj-week
For more information on the ManufactureNJ Talent Network, go to: http://www.manufacturenj.org/
To learn more about Manufacturing Day, go to www.mfgday.com.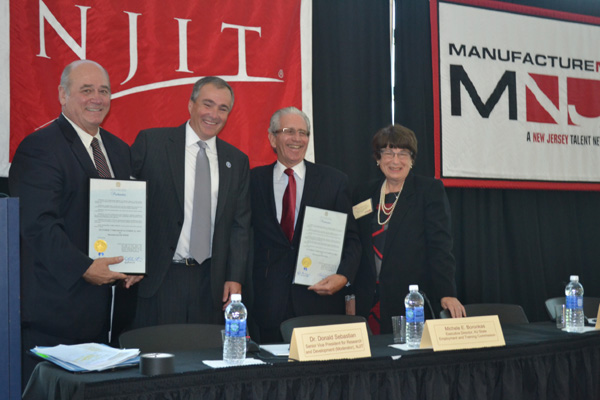 New Jersey Labor Commissioner Harold J. Wirths (2nd left) commemorated National Manufacturing Day and kicked off ManufactureNJ Week at the New Jersey Institute of Technology (NJIT) in Newark. Commissioner Wirths presented a proclamation from Governor Christie during the event to Raymond Vaccari (left), director of the ManufactureNJ Talent Network; Dr. Joel Bloom (2nd right), president of NJIT; and Dr. Gale Spak (right), associate vice president, Continuing and Distance Education, NJIT.