Nov-25-13 Christie Administration Celebrates Third Annual "Season of Service"
Labor Commissioner Helps Prepare Thanksgiving Dinners for 125 Needy Families
Contact:
Brian T. Murray: 
TEL: 609.984.2841
FAX: 609.777.3634
Email: MediaCalls 

 

 
SUSSEX, N.J., November 25, 2013 _
Commissioner Harold J. Wirths of the Department of Labor and Workforce Development helped to load, package and distribute more than 120 Thanksgiving Day turkey dinners to needy families today as he and other cabinet members engaged in another holiday season of charitable efforts under the Christie Administration's third annual "Season of Service" campaign.

Coordinated annually through the Sussex Help Center and many charitable organizations in Sussex County, the Thanksgiving turkey dinner preparations this season began early today with frozen turkeys being loaded into trucks by Commissioner Wirths and others at the Weiss Market on Route 23 in Franklin (Sussex County). From there, the turkeys were delivered to the United Methodist Church on Bank Street in Sussex, where volunteers packaged them with donated canned goods and other seasonal foods.

Commissioner Wirths, his wife and their two daughters joined volunteers at the church in packaging the meals, and distributed them at the church from 3:00 p.m. to 6:00 p.m. to families in need. Everything was donated and made possible through the generosity of residents, businesses and local organizations throughout Sussex County.
All cabinet officials in the Christie Administration are spending time volunteering and highlighting service opportunities through the end of December as part of the "Season of Service" initiative.
The Sussex Help Center, where Commissioner Wirths and his family traditionally volunteer their time, provides a variety of programs to Sussex and Wantage neighbors in need. Aside from providing special holiday meals, the organization's storefront on Main Street in Sussex Borough
Funding for the center comes from private donations, individuals and churches. The charity receives no federal, state or government assistance.
The center accepts non-perishable food donations, including canned vegetables, canned meals and fruit, gelatin, pudding, soup, sandwich spread, peanut butter, jelly, tuna fish, mayonnaise, canned meat, macaroni, spaghetti, sauce, rice, tea bags, powdered milk, and sugar-free food for diabetics. To find out more information about donating to the Sussex Help Center or if you know a family in need, please call (973) 702-1922.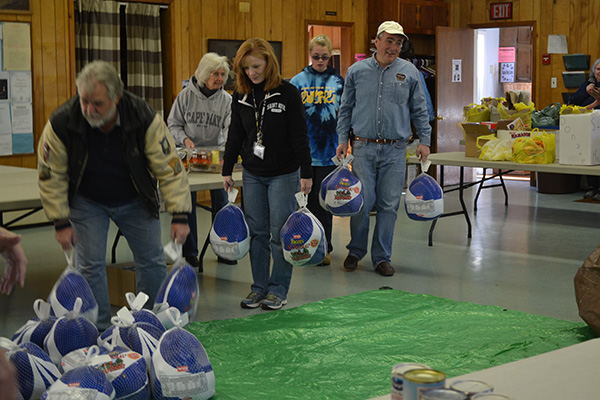 New Jersey Labor Commissioner Harold Wirths (baseball cap) joins volunteers to
load and organize turkeys that will be packaged with other items to give families in
need a full seasonal meal. The event is coordinated annually through the Sussex Help
Center and other charitable organizations in Sussex County.