Nov-27-13 Commissioner Wirths Honored by Literacy Volunteers
Contact:
Brian T. Murray: 
TEL: 609.984.2841
FAX: 609.777.3634
Email: MediaCalls 

 

 
| | | |
| --- | --- | --- |
|   | -News Release- |   |
SCOTCH PLAINS, N.J., November 27, 2013 _ Commissioner Harold J. Wirths of the Department of Labor and Workforce Development was joined by Grammy-winning singer/songwriter Rosanne Cash recently in being honored for their commitment to promoting literacy by the Literacy Volunteers of New Jersey and the Literacy Volunteers of Union County during a gala at the Shackamaxon Country Club.

The Nov. 13 event, dubbed "Changing Lives through Literacy," was a joint fundraiser to support the consolidation of literacy services throughout New Jersey. Commissioner Wirths was presented with a plaque specifically for his commitment to labor development and training programs throughout the state.

The literacy organizations were past recipients of the department's Literacy4Jersey grants.

Also honored by the Literacy Volunteers were Ms. Cash, who also is an author; Henry Goldsmith, the retired president of Literacy Volunteers New Jersey, and the Rev. Dr. DeForest B. Soaries, Jr., who serves as Senior Pastor of the First Baptist Church of Lincoln Gardens and is the former Secretary of State of New Jersey.

For more than 25 years, Literacy Volunteers has been dedicated to providing high quality tutoring focused on improving the lives of adults by teaching them to read, write and speak English so they can participate more fully in family, workplace and community life.   By recruiting, training and supervising dedicated volunteer tutors Literacy Volunteers are able to provide free, student-centered tutoring for adults with the greatest financial and educational needs.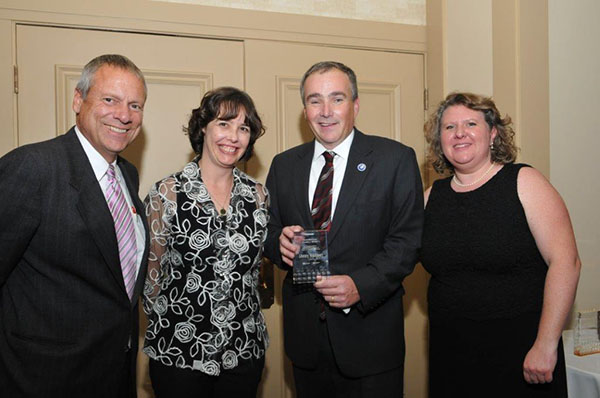 Pictured with Commissioner Wirths at the Literacy Volunteers gala is, left to right, Brian
Thompson of NBC 4 New York, who was master of ceremonies; Jessica Tomkins,
executive director of Literacy Volunteers of New Jersey, and Elizabeth Gloeggler, executive
director of Literacy Volunteers of Union County