Dec-05-13 Transportation, Logistics and Distribution Talent Network Highlighted at Workshop for Supply Chain Professionals
Contact:
Brian T. Murray:
TEL: 609.984.2841
FAX: 609.777.3634
Email: MediaCalls
| | | |
| --- | --- | --- |
| | -News Release- | |
NEWARK, DECEMBER 5, 2013 – The Christie Administration, through the Department of Labor and Workforce Development's Transportation, Logistics and Distribution (TLD) Talent Network joined the Council of Supply Chain Management Professionals (CSCMP) today for a career workshop surrounding one of the Garden State's most important industry clusters.

The event, held at the North Jersey Transportation Planning Authority in Newark, offered a platform for companies to discuss the best practices and changes in what is known as the supply chain industry. The industry, which involves the transportation and distribution of goods, accounted for 11.2 percent of New Jersey's private sector employment in 2012 – a higher percentage than the nation, which held at 8.9 percent.

"New Jersey's location between New York City and Philadelphia makes it one of the best areas for the transportation, logistics and distribution industry cluster in the nation. New Jersey is within a day's drive of 40 percent of the United States population, which purchases $2 trillion in merchandise every year," said Dr. Aaron Fichtner, Deputy Commissioner of the New Jersey Department of Labor and Workforce Development (LWD).

He provided the opening remarks for the workshop, emphasizing the importance of the TLD Talent Network connecting with businesses in the supply chain industry. He also highlighted LWD programs available to assist businesses in the state with growth and expansion.

The TLD Talent Network is one of the seven industry-focused talent networks created by the Christie Administration to assist the businesses that employ more than two-thirds of New Jersey workers and pay more than two-thirds of the wages paid annually.

Talent Networks have transformed the traditional workforce model by treating employers like customers and engaging them to identify the relevant skills job-seekers need to obtain employment in the state's most promising industries. The other six industry-focused Talent Networks were created around: Life Sciences; Health Care; Advanced Manufacturing; Financial Services; Technology and Entrepreneurship; and Retail, Hospitality and Tourism.

An eighth Talent Network, labeled Recovery New Jersey, is focused on addressing the needs of businesses impacted by Superstorm Sandy.

The Council of Supply Chain Management Professionals (CSCMP) has nearly 9,000 members globally and is dedicated to the education, research, and advancement of the supply chain management profession.

For more information about the TLD or any of the other Talent Networks, go to: http://careerconnections.nj.gov/careerconnections/partners/talent/talent_networks.shtml.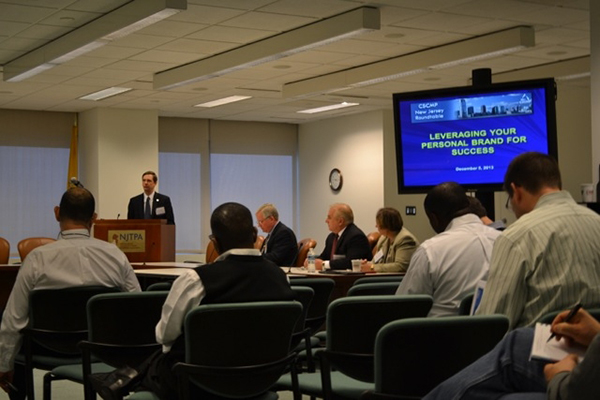 Deputy Labor Commissioner Aaron Fichtner addressed the Transportation, Logistics and
Distribution Workshop at the North Jersey Transportation Planning Authority in Newark