Dec-13-13 Christie Administration Employed Over 1,000 Workers in Sandy Clean Up
Goal of Federal Grant is Surpassed as Unemployed People get Temporary Jobs
Contact:
Brian T. Murray: 
TEL: 609.984.2841
FAX: 609.777.3634
Email: MediaCalls 

 

 
| | | |
| --- | --- | --- |
|   | -News Release- |   |
UNION BEACH, N.J., DECEMBER 13, 2013 –A little over a year after Superstorm Sandy devastated New Jersey, a program launched by the Christie Administration to temporarily hire 1,000 people to restore and rebuild impacted communities has surpassed its goals, noted state Labor Commissioner Harold J. Wirths today as he toured rebuilding efforts in Union Beach.

"The Christie Administration got to work on this grant before the storm surge receded, and we set out with a plan to give 1,000 unemployed people a chance at temporary jobs helping the state recover and rebuild from Sandy. We have surpassed that goal, while helping a lot of Garden State communities in the process, including Union Beach," said Commissioner Wirths as he toured the borough.

To date, more than 1,056 people have been given temporary jobs, cleaning up and restoring communities in 13 counties and repairing state properties under a $15.6 million National Emergency Grant obtained by the New Jersey Department of Labor and Workforce Development in the wake of the storm. The state Department of Environmental Protection, the Palisades Interstate Park Commission and the Department of Military and Veterans Affairs also have hired workers through the grant.

Approximately 300 of the temporary workers remain on the job in various parts of New Jersey, with about 15 of the 22 workers initially assigned to Union Beach still on the job. Commissioner Wirths, along with members of his staff, joined local officials today in examining the progress the workers helped to bring about in the Monmouth County borough.

The Union Beach workers are assisting in different areas, including helping the Department of Public Works rebuild garages that were destroyed and helping the Construction Permitting Office to process the overwhelming volume of construction permits spurred by the rebuilding effort. The workers also are assisting in the Information Technology Department to upgrade systems due to the increased volume of work.

"This grant has been instrumental in helping towns like Union Beach get on the track to recovery," said Commissioner Wirths. "We accomplished two important goals here. We gave crucial assistance to the impacted communities and we gave temporary employment to people who needed jobs - jobs that gave them some wages, enabled them to add to their work history and bolstered their chances of finding full-time work."

Several communities in Monmouth County, including Union Beach, temporarily hired about 250 workers in total under the National Emergency Grant over the past year. Union Beach, a borough of less than 2-square miles, lost more than 60 homes to the storm, with another 200 left uninhabitable and hundreds more either damaged or flooded.

In addition to touring different worksites in Union Beach, Commissioner Wirths also visited with National Emergency Grant workers recruited through the Gateway Church of Christ in the nearby town of Holmdel.

When church members became aware of the need for food and supplies in Union Beach after Sandy, a groundswell of volunteers from the church's national network came to help. With 200 volunteers, they brought supplies and food each week to the community. Workers hired under the National Emergency Grant helped to centralize and organize the effort. Over the past year, 25 individuals were hired under the grant through Gateway Church of Christ, and about 15 workers remain.

"As a result of our partnership with Gateway Church of Christ and supplying workers hired under the NEG to help organize volunteers and distribute supplies, we were able to expand assistance to other towns in the area, including Highlands Borough, Keyport Borough, Keansburg Borough, Port Monmouth, Middletown Township and Atlantic Highlands Borough," said Commissioner Wirths.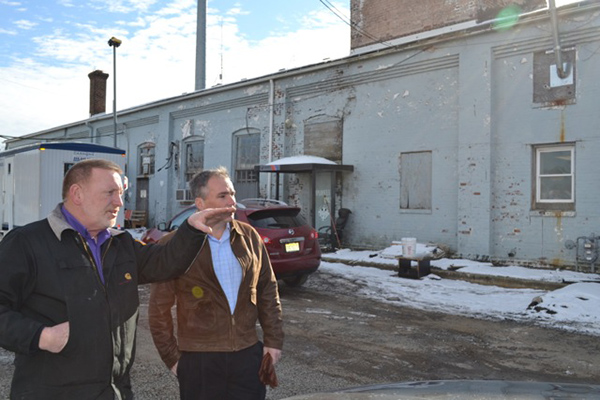 As Labor Commissioner Harold J. Wirths (right) toured Union Beach today, Public
Works Director John Haines (left) pointed out the high water mark of the Superstorm
Sandy flooding that destroyed much of the borough's public works facilities. Behind
Haines is a trailer officials have been forced to use while restoration works continues
on the buidings with the help of workers hired through a National Emergency Grant issued
by state Labor officials.