Dec-19-13 Governor Christie's "Season of Service" Continues
Labor Commissioner and Treasurer Volunteer at Arc of Monmouth County
Contact:
Brian T. Murray: 
TEL: 609.984.2841
FAX: 609.777.3634
Email: MediaCalls 

 



        -News Release-

LONG BRANCH, N.J., December 19, 2013 -- Today New Jersey Labor Commissioner Harold Wirths and state Treasurer Andrew Sidamon-Eristoff worked alongside volunteers from the global banking company BNP Paribas and the nonprofit volunteer organization, Jersey Cares. to spread holiday cheer during Governor Chris Christie's annual "Season of Service" initiative.

The two members of Governor Christie's cabinet were among approximately 60 volunteers who gathered at the Arc of Monmouth County Work Opportunity Center in Long Branch to celebrate the holiday season with about 150 clients by serving lunch, making crafts together and wrapping donated gifts. They also sorted and packaged miniature Christmas trees and baked cookies for clients.

All cabinet officials in the Christie Administration are spending time volunteering and highlighting service opportunities as part of the administration's Third Annual "Season of Service," which the Governor and First Lady Mary Pat Christie initiated in 2011. Christie Administration officials will continue to donate their time and highlight service opportunities around the state throughout December, volunteering in a variety of ways to serve New Jersey's most vulnerable residents as well as families and communities recovering from Superstorm Sandy.

For more information about Governor Christie's Season of Service, go to: http://www.nj.gov/governor.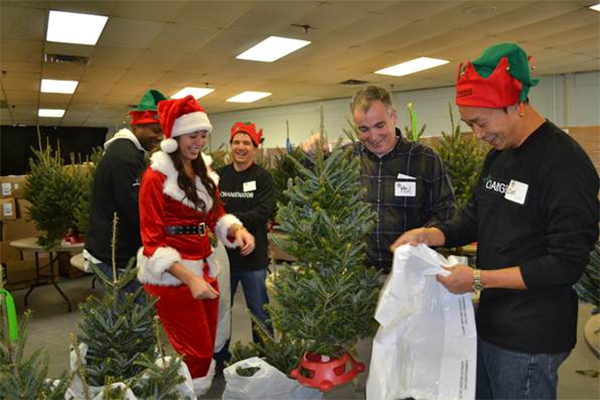 New Jersey Labor Commissioner Harold J. Wirths (2nd right) helps volunteers at the
Arc of Monmouth County in Long Branch to bag Christmas trees to give to consumers.
Commissioner Wirths and other cabinet members are volunteering and highlighting
service opportunities as part of Governor Chris Christie's Third Annual "Season of Service."