Jan-24-14 Christie Administration Links Residents to Super Bowl Staffing Jobs
State Labor Commissioner Visits Trainees for Security Staff
Contact:
Brian T. Murray:
TEL: 609.984.2841
FAX: 609.777.3634
Email: MediaCalls



-News Release-
JERSEY CITY, N.J., January 24, 2014 – Labor Commissioner Harold J. Wirths today visited a training class for security officer candidates who the Department of Labor and Workforce Development helped to recruit through the One-Stop Career Center to help staff Super Bowl XLVIII.

Unemployed workers are taking advantage of the temporary employment and experience that jobs at the Super Bowl can provide for them. The Department of Labor's One-Stop Career Center in Jersey City helped to direct more than 220 job-seekers to Phalanx Alliance, one of a few local companies contracted to supply security officers for the big event on Sunday, February 2 at the MetLife Stadium in East Rutherford and other venues hosting Super Bowl-related activities.

"This is a huge event and it is expected to provide direct wages and jobs to many local workers as well as infuse money in New Jersey's economy," said Commissioner Wirths. "Our Jersey City One-Stop Career Center assisted with positive recruitment efforts with a local security company hiring officers for the event. While those jobs are temporary, workers will earn a paycheck as well as a security officer credential that will assist them with other job opportunities."

The New Jersey Security Officer Registration Act (SORA) requires all security officers employed in the state of New Jersey to register, receive state regulated training led by a State Police-certified instructor and clear a background check.

"We worked with Phalanx Alliance to screen potential candidates for the Super Bowl and pre-event venues," said Dawn Lynch, manager of the Jersey City One-Stop Career Center. "After several targeted recruitments held at the Jersey City One Stop, we selected and referred 220 candidates to the company, and subsequently a large number of them were offered employment."

"I've had the opportunity to work with the One-Stop Career Centers in the past, so I immediately reached out to the center in Jersey City for assistance with recruitment after my company landed the contract to provide 200 security officers for the Super Bowl," said Dane DeSouza, CEO of Phalanx Alliance. "As certified SORA trainers, my company trained over 90 security officer candidates for the event and many of those we recruited already had their SORA certification."

Phalanx Alliance is one of a number of local minority- and women-owned businesses that earned contracts with the NY/NJ Super Bowl Host Committee, which launched the Business Connect initiative in November 2012 in conjunction with the National Football League to increase business opportunities for those groups.

Estimates on the number of workers who will support Super Bowl activities in temporary jobs have ranged as high as 10,000. Those jobs will include wait staff, limousine and bus drivers, construction workers, customer service and food service workers, banquet servers, and security personnel.

"Our 33 One-Stop Career Centers around the state, our OnRamp service on Jobs4Jersey.com and my department's staff are terrific resources for employers who are interested in recruiting personnel," said Commissioner Wirths. "I want to encourage other New Jersey businesses to contact us with employee needs, if they need to train existing staff and if they need to learn about the hiring incentives we have available. We have business representatives in every county ready to assist you."

For more information about New Jersey's One-Stop Career Centers and business representatives go to http://careerconnections.nj.gov/ and click One-Stop Career Centers located on the left-hand side.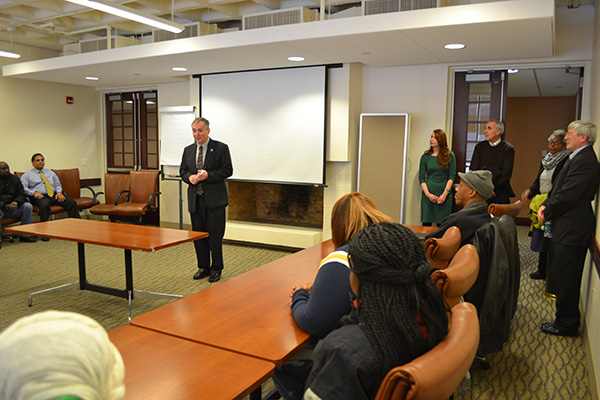 New Jersey Labor Commissioner Harold J. Wirths (standing, center) addresses a group of
security officer recruits hired to staff Super Bowl XLVIII at the MetLife Stadium in East
Rutherford and other pre-event venues during a training session held on campus at New
Jersey City University. The Labor Department assisted Phalanx Alliance - a company
contracted to provide security officers for the event – by prescreening potential candidates.
Above, Commissioner Wirths talks with the trainees about the benefit of earning a security
officer credential that will assist them with other job opportunities. Standing to the right of
Commissioner Wirths is Dawn Lynch, manager of the One-Stop in Jersey City and Department
of Labor Business Representative Hugh Caufield.