Jan-29-2014 Christie Administration Assists Bergen County's "Project Homeless Connect"
New Jersey Department of Labor Links Homeless to Employment Resources
Contact:
Brian T. Murray: 
TEL: 609.984.2841
FAX: 609.777.3634
Email: MediaCalls 

 



        -News Release-
HACKENSACK, N.J., January 28, 2014 – The New Jersey Department of Labor and Workforce Development joined Bergen County for its 8th Annual "Project Homeless Connect" event to assist and link people experiencing homelessness with one-stop access to health, hygiene, legal, and employment services.

"My department is pleased to again be a part of Project Homeless Connect to offer employment assistance that may provide a starting place for people on their journey back from hard times," said Labor Commissioner Harold J. Wirths. "We are committed to providing resources that effectively help people find work. We can assist them in creating resumes, circulating their profile to employers, getting them into training programs and subsequently improve their overall quality of life."

People attending the event received information on the Labor Department's employment services for veterans and individuals with disabilities, as well as the Jobs4Jersey.com website, a portal to all of the employment and training services offered by the department. Other agencies at the "Project Homeless Connect" provided legal advice, housing assistance, information on Medicaid, access to the Supplemental Nutrition Assistance Program, HIV counseling, flu shots, health screenings, haircuts, warm clothing and gift bags with donated gift cards and personal hygiene items.

The event, held at the Bergen County Housing, Health and Human Services Center, has assisted an estimated 200 people each year of its operation.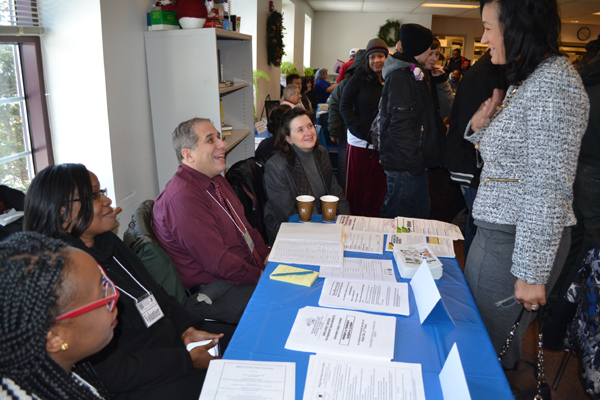 Catherine Starghill, Director of Field Services at the Department of Labor (right) spoke with state and county staff from the Bergen County One-Stop Career Center who assisted customers at the Project Homeless Connect event. From left to right are Sharon Phillips, Tahisha Martin, Joseph Homer and Christine Denning.