Mar-05-14 Workforce Alignment Initiatives For Labor And Business Leaders
Contact:
Brian T. Murray: 
TEL: 609.984.2841
FAX: 609.777.3634
Email: MediaCalls 

 



        -News Release-
WEST ORANGE, March 5, 2013
_ Commissioner Harold J. Wirths of the Department of Labor and Workforce Development spoke last night at the 21st Annual Archbishop's Business and Labor Recognition Reception, highlighting the Christie Administration's efforts to get employers in New Jersey's major industries more involved in identifying the skills needed by job-seekers and students alike to remain competitive in the job market.
The Commissioner has joined Lt. Governor Kim Guadagno in her ongoing tours of New Jersey's Career and Technical Education schools, where she has been highlighting programs that involve a collaboration between educators and major New Jersey corporations in instructing students on important, valuable skills.
"We already have our Talent Networks working with the industry clusters that employ more than two-thirds of the workers in New Jersey and pay more than two thirds of the annual wages. Lt. Governor Guadagno has also been reaching out to our career and technical education schools to assist in involving employers in curriculum development and classroom training," said Commissioner Wirths.
The Archbishop Reception, held at Mayfair Farms, annually recognizes the contributions of both labor and business leaders while raising funds to support charity programs for children and young adults of all religions, races and ethnic backgrounds.
Commissioner Wirths said the nation's slow economic recovery has challenged all young people who are looking for career paths as they move closer to graduating high school. It is crucial, he said, for employers in industries that promise to drive the future of New Jersey's economy to be involved with high schools, career and technical schools, community colleges and the state's universities.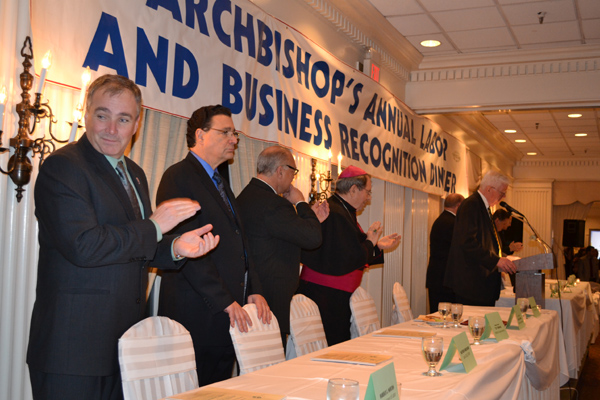 Labor Commissioner Harold J. Wirths (left) was among the guest speakers at the 21rst Annual Archbishop's Business and Labor Recognition Reception. Pictured at the podium is Assemblyman Thomas P. Giblin and (center) John J. Myers, Archbishop of Newark.