Feb-12-14 Christie Administration Showcases Students' Technical Skills at Salem County Career and Technical High School Competition
Contact:
Brian T. Murray: 
TEL: 609.984.2841
FAX: 609.777.3634
Email: MediaCalls 

 



        -News Release-
MANNINGTON TWP., N.J., February 12, 2014 – Continuing the Christie Administration's commitment to better align educational curriculums with the skill needs of the Garden State's key industries, New Jersey's Advanced Manufacturing Talent Network participated in a skills competition for students at the Salem County Career and Technical High School today.

Recognizing that February is National Career and Technical Education Month, the annual skills competition, now in its 41st year, gave students of the Salem County Career and Technical High School an opportunity to demonstrate what they have learned and to compete with their peers to win the Quality Cup of Excellence award. Among the judges who reviewed the competition was Raymond Vaccari, director of the state's Advanced Manufacturing Talent Network, an arm of the state Department of Labor and Workforce Development.

"We created seven Talent Networks around the seven key industry clusters that pay more than two-thirds of the wages in New Jersey and employ more than two-thirds of our workers to better identify the skills employers need to find in prospective employees. We are forging tighter alliances with our educational institutions, particularly our career and technical educational schools, to ensure students obtain the specific skills that will lead them to jobs with Garden State employers," said Labor Commissioner Harold J. Wirths.

Commissioner Wirths joined Lt. Governor Kim Guadagno earlier in the week at Bergen County Technical High School, where she kicked off a state-wide tour to highlight the partnerships New Jersey's career and technical schools have forged with business, industry and higher education to improve the students' employment prospects and marketability. The Lt. Governor, with the aid of the Department of Education, the Department of Labor and the Office of Higher Education, is working to better align educational curriculums with the skills-needs of New Jersey's major employers.

"We frequently hear from our employers that they have jobs available, but they cannot find people with the proper skills needed to fill those positions. Our goal is to identify and pass on those skills to our students and job-seekers, who can find lucrative employment, help boost the prosperity of New Jersey companies and help to bolster the state's economy," Wirths added.

The state's seven Talent Networks have been built around: Health Care; Life Sciences; Transportation, Logistics and Distribution; Advanced Manufacturing; Financial Services; Technology and Entrepreneurship; and Retail, Hospitality and Tourism. The educational programs offered at Career and Technical High School are largely aligned with those same industry clusters, instructing students in the areas of biological and medical sciences, health professions, culinary and pastry arts, welding technology, construction technology, health and hospitality, and trade and industrial techniques.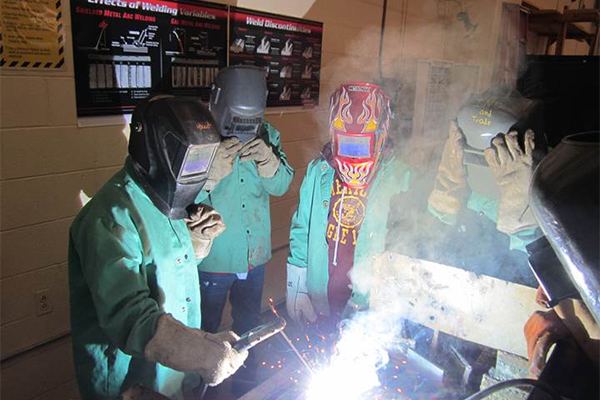 Salem County Career and Technical High School students demonstrated their skills at the
school's annual skills competition.