Mar-07-14 Christie Administration Helps to Connect South Jersey Job-Seekers with Employers
Labor Department Joins Gloucester County College Job Fair
Contact:
Brian T. Murray:
TEL: 609.984.2841
FAX: 609.777.3634
Email: MediaCalls



-News Release-
SEWELL, N.J, March 7, 2014 – The Department of Labor and Workforce Development (LWD) joined the Gloucester County Job Fair and Career Resource event on the campus of Gloucester County College, welcoming hundreds of job-seekers who interacted with representatives from 60 businesses interested in filling open positions.
"My department is committed to connecting New Jersey job seekers with New Jersey businesses looking for talent," said Labor Commissioner Harold J. Wirths. "Several staff members from our One-Stop Career Center in Thorofare and our Division of Vocational Rehabilitation Services participated in this event, working to help job-seekers find resources to jump-start their careers, upgrade skills and secure employment."
The recruitment event was organized and hosted by the County of Gloucester, with job-seekers connecting with a wide range of businesses from the New Jersey State Police, Pepsi, and Lowes to Adventure Aquarium, PNC Bank, and Cooper University Health Care. Several local, county and state officials also attended the job fair including Catherine Starghill, Director of LWD's Workforce Field Services.
Job-seekers and business owners alike were encouraged to visit http://careerconnections.nj.gov/careerconnections/ , a website that assists both employers looking for talent and job seekers looking for employment.
"I encourage all job-seekers to go to Jobs4Jersey.com website to create a resume using the OnRamp tool, which recommends resume improvements and allows you to showcase your skills to thousands of employers who are searching for new talent," Commissioner Wirths said.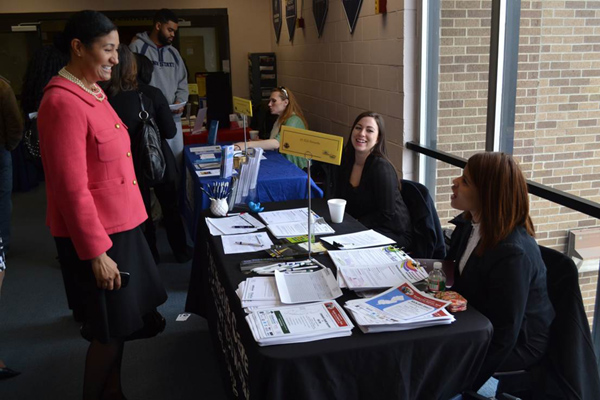 Catherine Starghill, Director of LWD's Workforce Field Services, took a moment to speak with representatives from the Health Care Talent Network and the Transportation, Logistics and Distribution Talent Network participating in a job fair and career resource event held on the campus of Gloucester County College. More than 500 job seekers attended the event, interacting with employers and getting resume assistance and guidance on their employment search.