Mar-13-14 Christie Administration's "Hire New Jersey" Initiative Helps Displaced Workers Find New Careers as Mortgage Loan Officers
Contact:
Brian T. Murray:
TEL: 609.984.2841
FAX: 609.777.3634
Email: MediaCalls



-News Release-
BLACKWOOD, N.J., March 13, 2014 – Continuing Governor Christie's "Hire New Jersey" initiative, officials from the state Department of Labor and Workforce Development (LWD) today joined a ceremony at Camden County College to applaud the second graduating class of mortgage loan officer candidates trained under a state Opporunity4Jersey grant.

The $100,000 Opportunity4Jersey grant – one of three grant programs developed through the Hire New Jersey initiative – was awarded by the LWD to the New Jersey Community College Workforce Consortium (NJCCC), which referred people who had lost their jobs to the training program. Camden County College's Continuing Education program provided the training at the Blackwood Campus for the 18 candidates who graduated.

"Having lost their prior employment, today's graduates sought training in new skills to adapt to the changing workforce demands in New Jersey and they are now equipped for a new and rewarding career," said LWD Commissioner Harold J. Wirths. "These training programs have a high rate of success because we involve industry professionals in the process and focus on teaching skills New Jersey employers identify as essential. I congratulate these graduates for their determination and hard work."

The trainees were instructed on the mortgage loan process in a five-week, 120-hour course that also prepared them to take the federally required Nationwide Mortgage Licensing System & Registry (NMLS) exam as well as the state required New Jersey Department of Banking and Insurance Mortgage Loan Originator License exam. The 18 candidates honored today passed the course, and upon passing the examinations, they will acquire licensing in New Jersey, Pennsylvania, Virginia and Delaware to work with borrowers to complete mortgage transactions. The state grant also covers fingerprinting and background checks for students.

Department of Banking and Insurance Commissioner Ken Kobylowski provided the keynote address at the graduation and Howard Miller, LWD Chief of Customized and Literacy Training programs, also provided brief remarks.

"Mortgage loan originators are on the front lines dealing with consumers who are buying homes," said Commissioner Kobylowski. "Thanks to the joint efforts of the State Department of Labor and Workforce Development and the Camden County Community College we have a way to train individuals for this field and we have a newly-trained graduating class ready to go into these vital jobs."

The first loan officer training class, completed in October 2013, boasts a 90 percent placement rate. Two members of the current class have landed jobs already and several have lined up interviews. Today's graduates also had an opportunity to network with industry professionals attending the ceremony.

"I have had the opportunity to work on this grant for over a year and it has been very rewarding helping displaced job-seekers get back to work. I am very excited to keep in touch with our graduates and hear about the exciting new jobs they land in this field," said Melanie Monturano, director of the Camden County College Continuing Education program. "My job is not complete until each and every graduate is hired!"

Under Opportunity4Jersey, $4 million is being awarded to consortiums of training organizations and community colleges with direct ties to New Jersey employers to address a "skills gap" employers identified in New Jersey. The two other programs under Governor Chris Christie's Hire New Jersey initiative are Recovery4Jersey and Skills4Jersey which give employers an opportunity to compete for grants to train their workers.

For more information about the Department of Labor and Workforce Development grant programs, go to http://careerconnections.nj.gov/careerconnections/.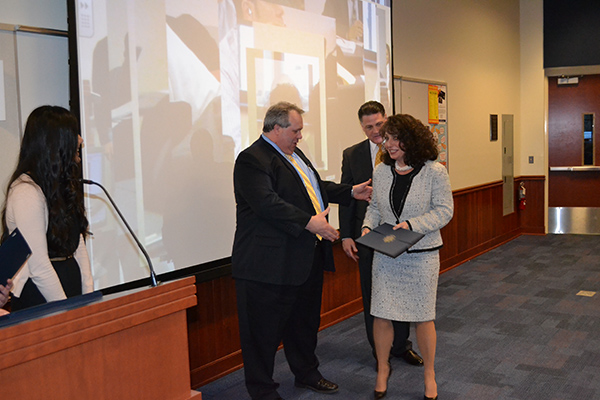 Howard Miller, LWD Chief of Customized and Literacy Training programs, congratulates a
graduate of the mortgage loan officer training program held at Camden County College in
Blackwood. The 18 candidates, trained under a state Opportunity4Jersey grant, studied the
mortgage loan process in a five-week, 120-hour course. After passing the required national and
state exams, graduates of the course will acquire licensing in several states.