Mar-27-14 Christie Administration Marks Grand-Opening of Goodwill Store and Donation Center in Bergen County
Contact:
Brian T. Murray: 
TEL: 609.984.2841
FAX: 609.777.3634
Email: MediaCalls 

 



        -News Release-
ELMWOOD PARK, MARCH 27, 2014 _
The Department of Labor and Workforce Development (LWD) joined a host of dignitaries in cutting a ribbon today at the grand opening of a new store and donation center for Goodwill Industries of Greater New York and Northern New Jersey, Inc.
The 15,000 square-foot store, located at 30 Broadway in Elmwood Park is now one of 11 Goodwill Industries facilities operating in the Northern New Jersey area, offering affordable clothing and household goods to the public as well as employment to people in the community.
"We've worked with Goodwill in the past, helping single parents find work and actively employing people with disabilities at many of its facilities on both sides of the Hudson River. With the opening of this new store, Goodwill is not only expanding the great service it provides to the people of New Jersey, but it also will offer jobs to more residents by hiring between 20 to 25 local workers at this facility," said Assistant Commissioner Jeffrey Stoller of the LWD.
The ribbon cutting marked the second time LWD officials joined Goodwill at a grand opening for one of its facilities. LWD Commissioner Harold J. Wirths cut the ribbon on a store Goodwill opened in 2012 in Pequannock. As part of Governor Chris Christie's "Season of Service" project every fall, LWD officials also have assisted Goodwill in serving holiday lunches the organization provides to its employees annually during Thanksgiving and Christmas.
Goodwill Industries, a not-for-profit operation, has worked with the LWD in the past to find jobs for people in the state. Under a $750,000 grant provided by the LWD in 2011, Goodwill established Goodwill Works, a program that provided employment training to single parents.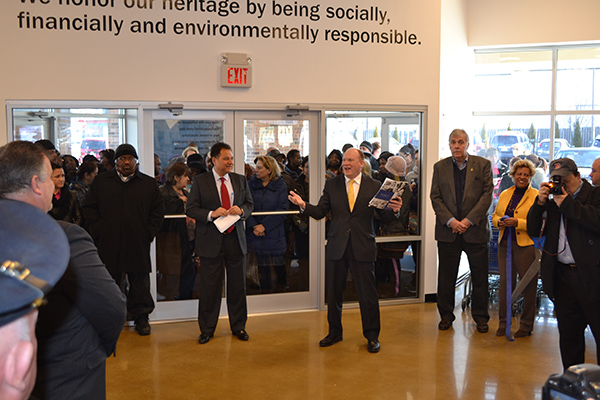 Assistant Commissioner Jeffrey Stoller spoke to a crowd of dignitaries at the ribbon-cutting
for Goodwill Industries' new Elmwood Park thrift center as a crowd of shoppers waited eagerly
to enter. Joining him were (left) Mauricio Hernandez, executive vice president of business
operations for Goodwill, and (right) William Forrester, president and CEO of Goodwill.