Mar-26-14 Labor Commissioner and Essex Executive Meet with Clergy
Outreach Effort Helps Connect Job-Seekers to State and County Employment Services
Contact:
Brian T. Murray: 
TEL: 609.984.2841
FAX: 609.777.3634
Email: MediaCalls 

 



        -News Release-
WEST ORANGE, N.J., MARCH 26, 2014 _ Commissioner Harold J. Wirths of the state Department of Labor and Workforce Development joined Essex County Executive Joseph N. DiVincenzo, Jr. in outlining for clerics and religious leaders the wide array of services by which the state and county assist job-seekers, including ex-offenders and the indigent, link with employers.


The gathering was held over coffee at McLoone's Boathouse in the South Mountain Recreation Complex, where Commissioner Wirths and the county executive discussed how the state website, Jobs4Jersey.com, and the One Stop Career Centers located in East Orange and Newark can link job-seekers to a host of programs and services designed to help them find employment. The clerics, representing a range of different faiths, were particularly interested in assisting parishioners who have criminal records and poverty-related difficulties that hamper their employment opportunities.

Ex-offenders programs have been well established in the state, as well as programs specifically geared to assist people in poverty. Also in attendance at the meeting were elected representatives from around Essex County and members of the Essex County Workforce Investment Board (WIB).

The meeting was organized by Essex County Executive DiVincenzo and the Essex County WIB.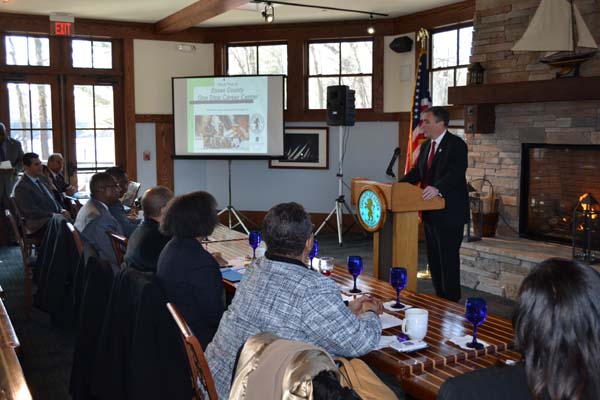 Labor Commissioner Harold J. Wirths spoke to religious leaders about employment programs during a morning meeting at McLoone's Boathouse. He was invited by Essex County Executive Joseph N. DiVincenzo, Jr., seated to the far left in this photo.