Apr-04-14 Christie Administration Connects Veterans to Resources, Jobs in South Jersey
New Jersey Department of Labor Partners with Stockton College, American Legion and State Parole Board to Assist Veterans
Contact:
Brian T. Murray:
TEL: 609.984.2841
FAX: 609.777.3634
Email: MediaCalls



-News Release-
POMONA, N.J., April 4, 2014 – The Christie Administration joined in the kick-off today of a new program designed to help New Jersey veterans transition into civilian life by connecting them with job opportunities as well as resources for housing, legal and medical issues at the South Jersey Regional Veterans Resource and Employment Opportunity Fair at Stockton College.
The Department of Labor and Workforce Development (LWD) partnered with sponsors of the event, including the American Legion, the State Parole Board and Richard Stockton College, to assist veterans and military spouses with employment and training opportunities. Fifty employers attended the event looking for qualified veterans to fill open positions.
Veteran service organizations also were on hand to help veterans who are grappling with homelessness, legal issues, medical concerns and education matters.
"We are proud to participate in yet another initiative to connect New Jersey's veterans with employment opportunities. We are committed to assisting our veterans, who sacrificed a great deal for our country, and we seize every opportunity to meet them face-to-face through career and resource fairs, such as today's event, and through our One-Stop Career Centers," said Labor Commissioner Harold J. Wirths. "Through our veteran representatives, many of whom are veterans themselves, we served upwards of 12,000 veterans last fiscal year."
Bob Looby, Past State Commander of the American Legion, Department of New Jersey, said, "Events such as these could never be accomplished without the support, expertise and help of New Jersey's Department of Labor and Workforce Development. Not only do they bring their one-of-a-kind employment assistance with their expert and professional staff, but their systems and data bases are the ammunition to fight these battles for our veterans. LWD has been by our side for the Legion's 14 Hiring Our Heroes job fairs since Oct. 2011. I also thank our other strong supporters – the New Jersey State Parole Board, Veterans Administration and the Department of Military and Veterans Affairs."
The LWD has hosted or partnered in dozens of career fairs specifically targeted for veterans over the past few years, including major gatherings organized by the department, such as a veteran fair on the Battleship New Jersey, and a department organized employer symposium with Prudential in Newark, where businesses were linked with veteran services designed to help them recruit veterans.
LWD is a consistent partner with the Hiring Our Heroes campaign organized by the U.S. Chamber of Commerce and the American Legion, and a frequent partner with the Be a Hero, Hire a Hero campaign.
The South Jersey Regional Veterans Resource and Employment Opportunity Fair also featured the latest qualifying round for Mr. and Ms. Veteran New Jersey, a contest showcasing how veterans have overcome obstacles of homelessness, unemployment, legal offenses or post-traumatic stress disorders. The final title will be awarded later this year.
Today's event is the first of four South Jersey Regional Veterans Resource and Employment Opportunity Fairs scheduled for the southern portion of the state into 2015. The next will be held on May 13, 2014, at the Naval Air Station Wildwood Museum in Rio Grande. Locations and dates for the third and fourth events will be announced at a subsequent date.
The state Department of Labor and Workforce Development encourages veterans seeking employment to contact its veterans program via:
• Email: Jobs4JerseyVets@dol.state.nj.us
• Phone: 609-777-1042
• Visit veteran representatives at the nearest One-Stop Career Center (locations available at:
http://careerconnections.nj.gov/careerconnections/plan/support/njccsites/one_stop_career_centers.shtml/).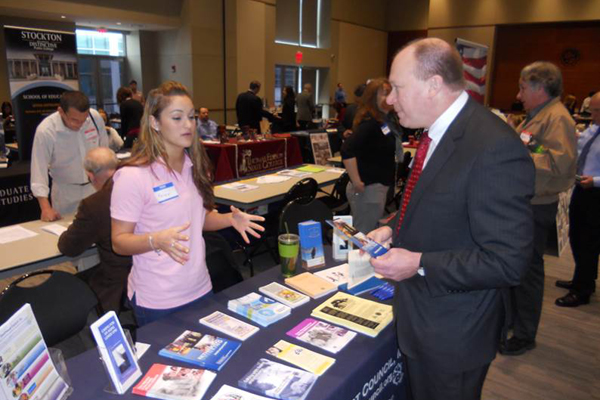 Assistant Commissioner Jeffrey Stoller of the Department of Labor and Workforce Development discussed veteran employment with many of the organizations and employers who attended the South Jersey Regional Veterans Resource and Employment Opportunity Fair at Stockton College.