Apr-07-14 Christie Administration Spotlights Health Care Industry This Week
Contact:
Brian T. Murray:
TEL: 609.984.2841
FAX: 609.777.3634
Email: MediaCalls



-News Release-
PISCATAWAY, N.J., April 7, 2014 – The Garden State's health care industry took center stage as the Christie Administration launched Health Care Industry Week with several partner organizations at the Rutgers University Busch Campus in Piscataway today.

The New Jersey Health Care Talent Network, which is linked to the state Department of Labor and Workforce Development (LWD), organized the annual event to highlight career opportunities within the state's growing health care field, display resources available for job-seekers and showcase the latest health care technology.
Today's event kicked off a series of activities scheduled from April 7 through April 11 featuring career fairs, panel discussions, workshops and networking events focused on the health care industry at a variety of venues throughout the state. Free health screenings will also be available at some of the events.
"New Jersey's expanding health care industry is a key component to the state's economic growth and future prosperity," said LWD Commissioner Harold J. Wirths. "As one of the priority industry sectors identified by our labor analysts, my department created the Health Care Talent Network to build strong connections with employers to identify the skills, education and training they need from prospective employees so that our education and training institutions can train and prepare our workforce for those emerging jobs."
New Jersey Health Care Week kicked off with remarks from Deputy LWD Commissioner Aaron Fichtner and Dr. Robert Barchi, president of Rutgers University, as well as addresses from experts within the behavioral health and education field.
The Rutgers University School of Management and Labor Relations operates the New Jersey Health Care Talent Network, which serves as a comprehensive resource for employers, job-seekers, the education community and the workforce development system. The Health Care Talent Network is one of seven Talent Networks created by LWD to focus on industry clusters that are driving the state's economy.
More than two-thirds of New Jersey workers are employed in the seven industry clusters, which account for more than two-thirds of wages paid in New Jersey. The other six Talent Network industries are: Transportation, Logistics and Distribution; Life Sciences; Advanced Manufacturing; Financial Services; Technology and Entrepreneurship; and Retail, Hospitality and Tourism.
"Mental health professions within the health care industry are projected to grow 37 percent. You do not need to have an M.D. or a Ph.D. to start working in the health care industry. There are many entry level jobs that require an undergraduate degree or GED," said Health Care Talent Network Director Padma Arvind, Ph.D., M.B.A. "You can start with entry level jobs that are in demand because of demographic and policy changes -- such as patient navigators, community health workers and scribers -- and then work your way up."
The activities organized for Health Care Industry Week include:
April 8 – Health Care Career Exploration Day at Camden County College April 9 – Community Health Awareness & Job Fair at Salem Community College AND Career Opportunities in the Mental Health Field at Ramapo College of New Jersey
April 10 – Behavioral Health Awareness & Career Pathways Day at Brookdale Community College AND the Heart of Care: A Conference for Direct Care Workers at Middlesex County College
Go to www.hctn-nj.org for a full schedule of Health Care Industry Week activities.
For more information about New Jersey's Talent Networks:
Visit: http://careerconnections.nj.gov/careerconnections/partners/talent/talent_networks.shtml
Contact: Judy Formalarie, Senior Project Manager, Talent Networks
judith.formalarie@dol.state.nj.us or (609) 984-4178
Contact: Terrance Leverett, Senior Project Manager, Talent Networks
terrance.leverett@dol.state.nj.us or (609) 292-5750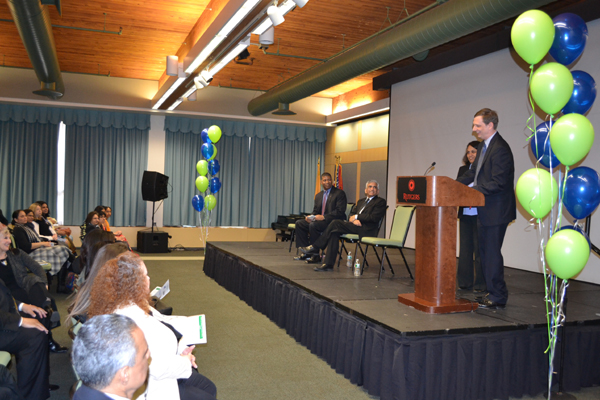 Deputy LWD Commissioner Aaron Fichtner presented to Health Care Talent Network Director Padma Arvind a proclamation from Governor Chris Christie declaring April 7 through April 11, 2014 Health Care Week.