May-14-2014 Christie Administration Kicks Off "Hiring Our Heroes" Job Fair in South Jersey
Susquehanna Center Event in Camden Designed to Get Veterans Hired
Contact:
Brian T. Murray:
TEL: 609.984.2841
FAX: 609.777.3634
Email: MediaCalls



-News Release-
CAMDEN, May 14, 2014 - The Christie Administration's ongoing efforts to support New Jersey veterans and expand sustainable employment opportunities continued today as Lt. Governor Kim Guadagno opened another "Hiring Our Heroes" career fair in Camden at the Susquehanna National Bank Center.
Lt. Governor Guadagno, joined Commissioner Harold J. Wirths of the Department of Labor and Workforce Development and Brigadier General Michael L. Cunniff of the Department of Military and Veteran Affairs (DMAVA) in greeting the Garden State's service members at the event while reaffirming the Administration's commitment to assisting veterans.
"As our military men and women begin the transition back to civilian life, it is imperative that we provide them with the tools they need to reach their goals," said Lt. Governor Kim Guadagno. "Today's "Hiring Our Heroes' career fair is just one way that we can help. The unique skills and experience our veterans have to offer are an asset to any business and I'm encouraged to see so many dedicated employers ready to hire them."
More than 80 employers looking for qualified candidates attended the event. The businesses ranged from national companies such as Sears, Verizon, Amtrak and Lowes to regional employers, including the police departments of Philadelphia and Wilmington, DE, and Goodwill Industries of Southern New Jersey. The employers indicated they were hoping to fill approximately 300 available positions.
The hiring fair gives veterans, active duty military members and military spouses an opportunity to participate in workshops on job hunting tools and tips on how to translate military experience into job skills, as well as transition assistance and information on training programs. They also have an opportunity to connect with state Labor Department counselors.
"The Department of Labor and Workforce Development has nearly 40 representatives, many of them veterans themselves, who are dedicated to helping former services people who need employment. Last year, we served more than 12,000 veterans through our One-Stop Career Centers. We also make it a point to join with our state and private partner organization every chance we get to support these veteran hiring fairs. We seize every opportunity to assist the men and women who sacrificed so much for our country," said Commissioner Wirths.
The Christie Administration remains a committed partner with the U.S. Chamber of Commerce Foundation's "Hiring Our Heroes" initiative and continues to work regularly with veteran service organizations such as the American Legion, the Employer Support of the Guard and Reserve (ESGR) and U.S. Department of Labor's Veterans Employment and Training Service (VETS) to help veterans find employment.
"Men and women in the military have proven their dedication, work ethic and abilities through their service to our state and nation," said Brig. Gen. Michael L. Cunniff, The Adjutant General, New Jersey Department of Military and Veterans Affairs. "We need to remind employers of their past so they're willing to invest in their future."
Today's "Hiring Our Heroes" job fair was co-sponsored by the American Legion and ESGR with support from the New Jersey departments of Military and Veterans Affairs; Labor and Workforce Development; and state Parole Board; Camden County Board of Freeholders; VETS, the U.S. Department of Veterans Affairs, NBC News, and other local partners.
In addition to the "Hiring Our Heroes" career fair today, state Labor Department staff will join several other veteran hiring initiatives in the coming weeks leading up to and beyond Memorial Day.
Some of the main veteran-focused employment and resource events scheduled for the next few weeks include:
May 28: 10 a.m. – 2 p.m.
New York and New Jersey Port Employers & Ocean Carriers Veterans Job Fair at Maher Terminal Building, 1210 Corbin Street, Elizabeth, N.J.
June 09: 10 a.m. – 2 p.m.
G.I. Go Fund South Jersey Veterans Job Fair at Aloft Hotel, 558 Fellowship Road, Mt. Laurel, N.J.
June 18: 10 a.m. – 1 p.m. (Employment Workshop starts at 8:30 a.m.)
Hiring Our Heroes Veterans Hiring Fair at Stevenson-D'Alessio American Legion Post #12, 232 Union Avenue, Somerville, N.J.
For more detailed information about each of these events, go to http://careerconnections.nj.gov/, click "Veterans" on the left side navigation, then click "Veteran Employment Events."
In addition to the events listed above, the New Jersey Department of Labor and Workforce Development encourages veterans seeking employment to contact its veterans program via:
• Email: Jobs4JerseyVets@dol.state.nj.us
• Phone: (609) 777-1042
• Visit veteran representatives at the nearest One-Stop Career Center (locations available at:
http://careerconnections.nj.gov/careerconnections/plan/support/njccsites/one_stop_career_centers.shtml).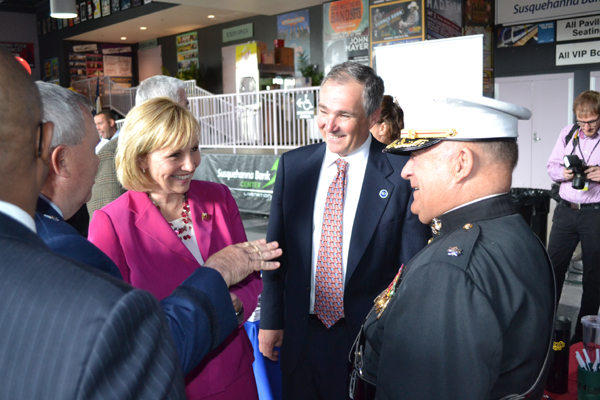 Acting Governor Kim Guadagno was joined by Labor Commissioner Harold J. Wirths (right) and Brigadier General Michael Cunniff (left of Lt. Govenor) during the Hiring Our Heroes job fair held at the Susquehanna Bank Center in Camden. The event was sponsored by the U.S. Chamber of Commerce and the American Legion, with LWD veterans representatives Darryl O'Hannon, Richard Schaeffer and Edwin Morgan staffing the event.