May-14-2014 Christie Administration Highlights Retail, Hospitality and Tourism Industry
One of New Jersey's Key Industry Clusters Celebrated at iPlay America Theme Park
Contact:
Brian T. Murray:
TEL: 609.984.2841
FAX: 609.777.3634
Email: MediaCalls



-News Release-
FREEHOLD, N.J., May 14, 2014 –The Christie Administration joined leaders of the state's Retail, Hospitality and Tourism Industry Talent Network today at the iPlay America indoor theme park to highlight the importance of this emerging industry cluster to the Garden State economy, along with the opportunities it provides for employment and growth.

"One of every four workers in New Jersey is already working in the Retail, Hospitality and Tourism industry cluster,"said Commissioner Harold J. Wirths of the Department of Labor and Workforce Development. "It is one of seven industry clusters around which the department created Talent Networks to give employers the ability to pinpoint the skills, education and training they need to find in prospective employees so our educational and training institutions can prepare our workforce in those areas."
The leadership of the Retail, Hospitality and Tourism Talent Network is shared between Fairleigh Dickinson University (FDU) in North Jersey and the Richard Stockton College in South Jersey because of the extensive programs each institution offers students in hospitality and tourism management.
"The Retail, Hospitality and Tourism Talent Network is working relentlessly to uncover the career pathways in our industries," said Caitlyn E. Bradley Weiss, director of RHT TN at Stockton College. "We encourage our partners including job seekers, educational institutions and government to explore the opportunity and value in these career pathways and to seek the resources available through LWD to help strengthen their labor force."
Sandra Bleckman, director of RHT TN at Fairleigh Dickinson University, said, "The Retail, Hospitality and Tourism Talent Network-North has received an overwhelmingly gracious welcome from employers, educators and jobseekers alike. In partnership with the New Jersey Department of Labor, we have connected jobseekers to employers and informed both on the many resources that are available."
The New Jersey Department of Labor and Workforce Development created Talent Networks to focus on the specific needs of key industries in the state in order to achieve the common goal of helping current job-seekers develop relevant skills that lead to job opportunities. They also are designed to help employers find qualified employees and ensure that New Jerseyans have access to training and educational opportunities that lead to the jobs of the future. The other six Talent Networks are: Technology and Entrepreneurship; Health Care; Transportation, Logistics, and Distribution; Life Sciences; Advanced Manufacturing; and Financial Services.
Go to www.RHTTN.com for more about the Retail, Hospitality and Tourism Talent Network.
For more information about other New Jersey Talent Networks:
Contact: Judy Formalarie, Talent Network Project Manager
Contact: Terrance Leverett, Senior Project Manager, Talent Networks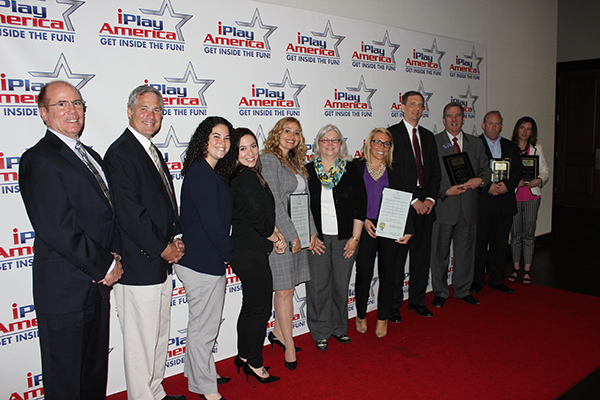 Attending the Retail Hospitality and Tourism (RHT) Industry recognition celebration at iPlay America in Freehold were (right to left) Collen Ansbach, general manager of The Crossings Premium Outlets; Tim McMahon, president of McLoone's Restaurants; Rick Mazer, general manager of Caesars Entertainment; Deputy Labor Commissioner Aaron Fichtner, Caitlyn Weiss, RHT Talent Network South Director; Judith Formalarie, the Talent Network Project Manager for the Labor Department; Sandra Beckman, director of the RHT Talent Network North; Aubrianna Fouts, RHT North program coordinator; Ashley Ferraro, RHT South program coordinator; Donald Hoover of Fairleigh Dickinson University and Robert McNeill, Jr. of Stockton College.