May-15-2014 Christie Administration Joins Essex County to Link Job-Seekers with Employers
Annual Employment Fair Highlights a Partnership of Programs
Contact:
Brian T. Murray: 
TEL: 609.984.2841
FAX: 609.777.3634
Email: MediaCalls 

 



        -News Release-
NEWARK, N.J., MAY 15, 2014
– The Christie Administration joined Essex County officials today in linking job-seekers with employers at the annual Essex County Spring Job Fair held in the gymnasium of Essex County College, where more than 100 companies and recruiters were searching for new talent.

Commissioner Harold J. Wirths of the state Department of Labor and Workforce Development, along with other members of his staff and department, joined Essex County Executive Joseph N. DiVincenzo, Jr., Essex County College and the Essex County Department of Economic Development, Training and Employment for the five-hour event that also introduced job-seekers and business owners to the many state and county services available to both.
"Partnerships are important in New Jersey in successfully getting people employed, and these cooperative efforts go a long way to assisting employers in our major industries recruit the talent they require to grow and prosper, which helps everyone in the state," said Commissioner Wirths, who greeted attendees at the fair. "Essex County has worked with my department on many employment projects with great success, and we look forward to continuing that cooperation."
More than 1,000 people pre-registered to attend the expo, which was expected to host more than 3,000 and offer free services to job-seekers and vendors alike. Others attendees were permitted to register at Essex County College after the morning opening of the fair.
"Essex County is committed to providing our residents with employment opportunities and access to services, while assisting businesses with recruiting skilled and qualified applicants. We are pleased to be partnering with the State, College and business community to present this one-stop event to provide residents with the opportunity to connect with potential employers and offer information to help them rejoin the workforce," Essex County Executive Joseph N. DiVincenzo, Jr. said. "Whether you are looking for work or are a business with a need, we invite you to participate in our free Essex County Job Fair."
The Christie Administration joined Essex County earlier this spring in reaching out to job-seekers through local clergy at gatherings in Newark and West Orange. The state also continues to link job-seekers and employers through Jobs4Jersey.com, an on-line portal to all of the Department of Labor and Workforce Development's services and employment tools.
Commissioner Wirths spoke with job-seekers at the Essex County fair, noting the steady drop in New Jersey's unemployment rate since June 2012 and vowing to continue the department's active efforts and initiatives to link job-seekers with employers who are seeking new talent. He explained that the recent solvency of the state's Unemployment Insurance Trust Fund will save Garden State employers more than $1 billion in taxes over the next five years, freeing potential investment funds that may boost hiring.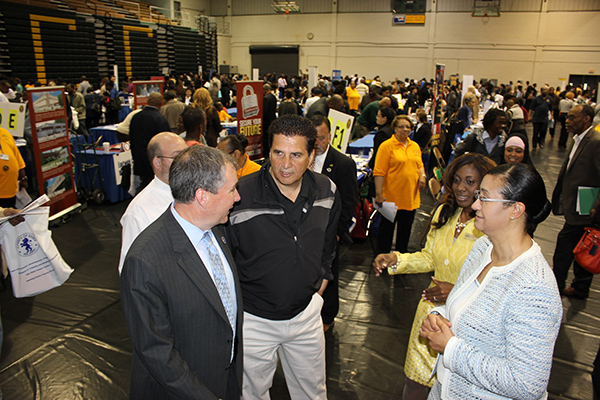 Labor Commissioner Harold J. Wirths was joined at the Essex County Spring Job Fair in Newark by (center) Essex County Executive Joseph N. DiVincenzo, Essex County College President Gale E. Gibson and Catherine Starghill, director of Workforce Field Services for the Labor Department.