May-28-2014 Christie Administration Helps To Recruit 300 Vets For Port Jobs
Contact:
Brian T. Murray: 
TEL: 609.984.2841
FAX: 609.777.3634
Email: MediaCalls 

 



        -News Release-
ELIZABETH, N.J., May 28, 2014  - The Christie Administration continued its support for New Jersey veterans today, as the Department of Labor and Workforce Development joined the American Legion, the New York Shipping Association and other partners at the Maher Terminal Building to recruit 300 honorably discharged service people for jobs at the Port of New York and New Jersey.



"This is one of the many veteran recruitment events we are committed to joining this year, as we continue this administration's work in providing employment opportunities and other resources to the men and women who so faithfully served this nation. We believe the least we can do for our veterans is to help those who are looking for work to find a job," said Labor Commissioner Harold J. Wirths.

The focus of the career fair was to match 300 honorably discharged veterans to employment opportunities at the port, with the possibility of recruiting additional veterans at other events in the near future.

The employment fair was held at the New York Shipping Association's training center, where the state Labor Department partnered with the American Legion, the state Department of Military and Veteran Affairs, the U.S. Department of Labor's Veterans' Employment & Training Service, the Employer Support of the Guard and Reserves, WNBC and others.

The Christie Administration will assist in additional veteran recruitment fairs in June including:
June 9, the South Jersey Veterans Job Fair at 558 Fellowship Road, Mt. Laurel, N.J. in collaboration with the GI Go Fund and the U.S. Department of Housing and Urban Development.
June 18, the Hiring our Heroes Job Fair hosted by the American Legion and U.S. Chamber of Commerce at the Stevenson-D'Alessio American Legion Post #12, 232 Union Avenue, Somerville, N.J.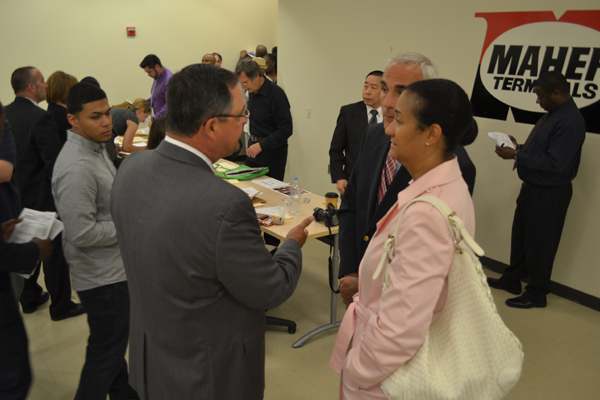 New York Shipping Association President John J. Nardi (left) spoke to the Labor Department's Director of Workforce Field Services Catherine Starghill and Business Representative Hugh Caufield about the types of port jobs being made available to the hundreds of veterans who attended the job fair at the Maher Terminals at Port Newark.