May-29-2014 Christie Administration Continues Sandy Rebuilding
National Emergency Grant Allows Work to Continue Through 2014
Contact:
Brian T. Murray: 
TEL: 609.984.2841
FAX: 609.777.3634
Email: MediaCalls 

 



        -News Release-
UNION BEACH, N.J., May 29, 2014
-
Labor Commissioner Harold J. Wirths toured reconstruction projects today in this tiny Jersey Shore community, which is still recovering from the devastation of Superstorm Sandy with the help of workers hired through a National Emergency Grant (NEG) secured by the Administration of Governor Chris Christie the morning after the storm.

"So far, we have used the federal grant to place more than 1,130 people into temporary jobs on projects in 13 counties since Sandy hit, and we are still putting it to effective use. This grant has given people a chance at finding full-time employment while additionally providing an important source of labor for ongoing recovery efforts in hard-hit communities such as Union Beach," said Commissioner Wirths of the state Department of Labor and Workforce Development.

The Monmouth County borough,
which is less than 2-square miles, reported damage to nearly 85 percent of its more than 2,300 homes as Sandy sent waters from the Raritan Bay into sections of the town that had never before recorded flooding.
Union Beach has used the federal funds, in part, to hire temporary workers to process the massive volumes of construction permits required for the demolition of hundreds of buildings and the rebuilding that is still ongoing in the town.

More than 275 workers were hired throughout the Monmouth County region through the grant, with the workers assisting in clean-up efforts and, early in the recovery effort, delivering relief services to residents displaced by the storm. About 95 people are still working throughout the state under the grant, which was extended last month by the U.S. Department of Labor.

The initial $15.6 million in federal funding provided to New Jersey has been was boosted by another $3.6 million, enabling many workers to continue in the recovery work and allowing towns to hire additional help throughout the year. The grant workers are still being used in state parks and other public properties operated by the state Department of Environmental Protection and the state Department of Military and Veterans Affairs.

Job-seekers interested in a temporary job under the grant may still apply by sending an e-mail to:
Job-seekers also may call (609) 777-1836 between 9:00 a.m. and 4:00 p.m. Monday through Friday. 
National Emergency Grants are part of the United States Secretary of Labor's discretionary fund and are awarded based on a state's ability to meet specific guidelines. For more information on such grants, visit: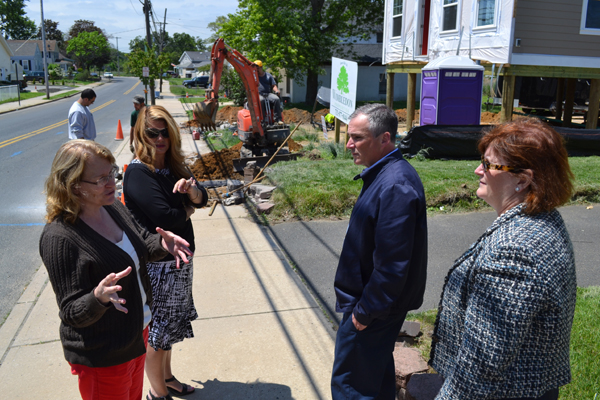 Labor Commissioner Harold J. Wirths toured some of the Superstorm Sandy reconstruction in Union Beach with (left to right) Borough Administrator Jennifer Maier, Monmouth County Freeholder Serena DiMaso and Eileen Higgins, director of the county Workforce Investment Board. National Emergency Grant funds obtained by the Labor Department helped to hire temporary workers in the borough, some of whom are helping to process thousand of building permits for the town.