Jun-09-2014 Christie Administration Launches Life Sciences Week At RUCDR Infinite Biologics
Contact:
Brian T. Murray:
TEL: 609.984.2841
FAX: 609.777.3634
Email: MediaCalls




-News Release-
PISCATAWAY, N.J., June 9, 2014 - The Christie Administration launched Life Sciences Week in New Jersey today, as members of the Department of Labor and Workforce Development and the Life Sciences Talent Network toured RUCDR Infinite Biologics, a unit of Rutgers' Human Genetics Institute of New Jersey and the world's largest university-based, bio-repository located on Rutgers University's Busch Campus.
Life Sciences Week is designed to bring together employers, job-seekers, entrepreneurs, educators and students to increase understanding of the important contributions the Life Sciences Industry makes in the lives of people worldwide and to highlight Garden State companies that are advancing medical research, patients care, and contributing to New Jersey's economy.
"New Jersey is still called the world's medicine chest because it is home to more than 360 biotechnology companies and 17 of the top 20 pharmaceutical and medical technology firms that are developing many of the drugs and vaccines that make our world healthier. This is a crucial industry to the Garden State economy, providing more than 116,000 jobs and paying more than $14.8 billion in wages annually," said Commissioner Harold J. Wirths of the Department of Labor and Workforce Development.
Governor Christie pronounced June 9, 2014 through June 13, 2014 Life Sciences Week in New Jersey in a proclamation Assistant Labor Commissioner Jeffrey Stoller presented to Debbie Hart, President and CEO of BioNJ, which operates the Life Science Talent Network under contract with the Labor Department. They were joined by Talent Network Director Vicki Gaddy in kicking off the industry week with a few remarks at the RUCDR Infinite Biologics facility before the tour began.
"The partnership on Life Science Week between the Department of Labor and Workforce Development and BioNJ is public-private partnership at its best. It provides the perfect opportunity to showcase the important work being done by our companies as well as the continued growth of the biotechnology industry here in New Jersey," said Debbie Hart of BioNJ.
The Life Sciences Talent Network connects New Jersey professionals with careers in pharmaceuticals, biotech, medical device technology, clinical operations, and medical diagnostics. The Life Sciences Talent Network supports employers with talent acquisition and recruitment, talent pipeline development, and business outreach. BioNJ, aside from operating the Talent Network, is singularly focused on advancing the growth and prosperity of New Jersey's biotechnology cluster through advocacy initiatives directed at state and federal public policy issues and networking and educational programs that bring the community together.
RUCDR Infinite Biologics was chosen for the Life Sciences Week kick-off because it offers a complete and integrated selection of biological sample processing, analysis and bio-repository services to government agencies, academic institutions, foundations and biotechnology and pharmaceutical companies within the global scientific community. RUCDR Infinite Biologics provides DNA, RNA and cell lines with clinical data to hundreds of research laboratories for studies on mental health and developmental disorders, drug and alcohol abuse, diabetes and digestive, liver and kidney diseases.
The Life Sciences Talent Network is one of seven Talent Networks launched by LWD to center around industry clusters that are driving the state's economy. More than two-thirds of New Jersey workers are employed in those seven industry clusters, which account for more than two-thirds of wages paid in New Jersey. The seven industry clusters include Life Sciences; Transportation, Logistics and Distribution; Health Care; Advanced Manufacturing; Financial Services; Technology and Entrepreneurship; and Retail, Hospitality and Tourism.
Highlights of Life Sciences Week include:
Tuesday, June 10: Students2Science Field Day. Students2Science Inc., a public charity operating a chemistry laboratory to provide young students with an authentic STEM-related work experience, will open its facility at 66 Deforest Avenue, East Hanover to students from the Newark Discovery Charter School.
Thursday, June 12: Career/Connection Industry Career Fair: The Life Sciences Talent Network at BioNJ will conduct its 4th Annual Industry Career Fair at the New Jersey Center of Excellence located at 1041 U.S. Highway 202/206 in Bridgewater, N.J. Come meet and network with Life Sciences companies looking to hire New Jersey's Top Talent.
For more information on the Life Sciences Talent Network and the Industry Week events, go to:
http://www.bionjtalentnetwork.org/connect/news/mark-your-calendars-for-life-sciences-week/
For more information on all New Jersey Talent Networks, visit:
http://careerconnections.nj.gov/careerconnections/partners/talent/talent_networks.shtml or contact:
Judy Formalarie, Talent Network Senior Project Manager, judith.formalarie@dol.state.nj.us or (609) 984-4178
Terrance Leverett, Talent Network Senior Project Manager, terrance.leverett@dol.state.nj.us or (609) 292-5750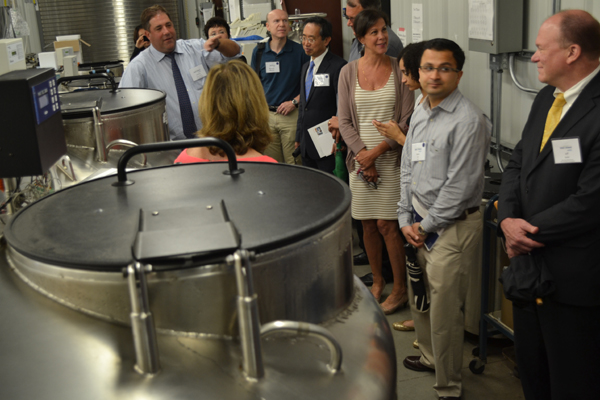 Assistant Commissioner Jeffrey Stoller of the Department of Labor and Workforce Development (far right) joined Vicki Gaddy, Director of the New Jersey Life Sciences Talent Network at BioNJ (center,) in a tour lead by Andrew Brooks, Phd, (left) at RUCDR Infinite Biologics at Rutgers University in Piscataway following a kick-off ceremony for New Jersey Life Sciences Inudstry Week.