Jun-10-14 Christie Administration Joins Students at Hands-On Science Lab
Life Science Industry Week Activities Bring Charter School Students to Morris County
Contact:
Brian T. Murray:
TEL: 609.984.2841
FAX: 609.777.3634
Email: MediaCalls




-News Release-
EAST HANOVER, N.J., June 10, 2014 _ The Christie Administration celebrated day two of Life Sciences Industry Week, joining students from the Newark Discovery Charter School for a day of hands-on learning about careers in science and technology at the non-profit Students 2 Science facility.

Students 2 Science, Inc, is a public charity operating a modern, sophisticated analytical chemistry laboratory for the sole purpose of providing young students with an authentic work experience using the tools of science, technology, engineering and math, otherwise known as STEM. Students who visit the commercial laboratory in East Hanover are engaged in age-appropriate experiments using state-of-the art instrumentation while working side-by-side with local technical professionals.

"There is an ever-increasing demand today for people trained and experienced in science, technology, engineering and math, but there are not enough qualified workers to take those jobs. Our Talent Networks are designed to help bridge those skill gaps by identifying what people need to know to find employment in our key industry sectors and by helping educational institutions understand the talents young people need to develop to find lucrative futures in New Jersey," said Commissioner Harold J. Wirths of the state Department of Labor and Workforce Development.

The New Jersey Life Sciences Talent Network, operated by BioNJ through a grant issued by the Labor Department, hosted the charter school students at Students 2 Science as part of the Life Science Industry Week celebration kicked-off in Piscataway yesterday. Life Sciences Week is intended to bring together employers, job-seekers, entrepreneurs, educators and students to increase understanding of the important contributions the Life Sciences Industry makes in the lives of people worldwide and to highlight Garden State companies that are advancing medical research, patient care and contributing to New Jersey's economy.

Governor Christie pronounced June 9, 2014 through June 13, 2014 Life Sciences Week in New Jersey in a proclamation presented to Debbie Hart, President and CEO of BioNJ, and Talent Network Director Vicki Gaddy in a kick-off ceremony Monday at the RUCDR Infinite Biologics facility in Piscataway.

Other events scheduled for the week include a Life Sciences Career/Connection Industry Career Fair on June 12. It will be the 4th Annual Industry Career hosted by the Life Sciences Talent Network at BioNJ, and it will be held at the New Jersey Center of Excellence at 1041 U.S. Highway 202/206 in Bridgewater, NJ. Come meet and network with Life Sciences companies looking to hire New Jersey's top talent.

The Life Sciences Talent Network connects New Jersey professionals with careers in pharmaceuticals, biotech, medical device technology, clinical operations, and medical diagnostics. The Talent Network also supports employers with talent acquisition and recruitment, talent pipeline development and business outreach. BioNJ, aside from operating the Talent Network, is singularly focused on advancing the growth and prosperity of New Jersey's biotechnology cluster through advocacy initiatives directed at state and federal public policy issues and networking and educational programs that bring the community together.

The Life Sciences Talent Network is one of seven Talent Networks launched by LWD to center around industry clusters that are driving the state's economy. More than two-thirds of New Jersey workers are employed in those seven industry clusters, which account for more than two-thirds of wages paid in New Jersey. The seven industry clusters include Life Sciences; Transportation, Logistics and Distribution; Health Care; Advanced Manufacturing; Financial Services; Technology and Entrepreneurship, and Retail, Hospitality and Tourism.

For more information on the Life Sciences Talent Network and BioNJ, please call BioNJ Headquarters at 609-890-3185, email at TalentNetwork@BioNJ.org or visit: www.BioNJTalentNetwork.org.

For more information on all New Jersey Talent Networks, visit:
http://careerconnections.nj.gov/careerconnections/partners/talent/talent_networks.shtml or contact:
Judy Formalarie, Talent Network Senior Project Manager, judith.formalarie@dol.state.nj.us or (609) 984-4178
Terrance Leverett, Talent Network Senior Project Manager, terrance.leverett@dol.state.nj.us or (609) 292-5750

For more information on Students 2 Science, go to: http://www.students2science.org/

Students 2 Science is looking for STEM trained volunteers to continue its unique program. Volunteering at S2S can help people expand their network, keep their resume relevant and speed up their employment searches while helping young students get started on a rewarding career path. Industry professionals who wish to volunteer at S2S should register by going to http://bit.ly/1j5ijtQ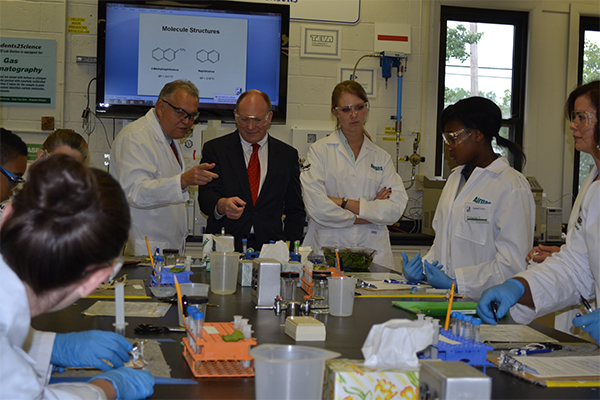 Assistant Commissioner Jeffrey Stoller of the the Department of Labor and Workforce
Development (center) and Students2Science Executive Director Donald Truss (left) joined
students from the Newark Discovery Charter School in an experiment during a tour of the
non-profit Students2Science facility today.