Jun-12-2014 New Jersey Labor Employees Honored By American Legion
Contact:
Brian T. Murray:
TEL: 609.984.2841
FAX: 609.777.3634
Email: MediaCalls




-News Release-
WILDWOOD, N.J., June 12, 2014 _ The American Legion, Department of New Jersey, honored three state Department of Labor and Workforce Development employees at the organization's annual convention for their work assisting former military personnel in finding employment and services in the Garden State.


"We are extremely honored to have the American Legion recognize three of our dedicated veteran representatives, and we are very proud of all our staff members working as the department's Local Veterans Employment Representatives (LVERs) and in our the Disabled Veterans' Outreach Program (DVOPs). Many of them are veterans themselves, and they are dedicated to our efforts to offer all assistance possible to our former service people," said Labor Commissioner Harold J. Wirths.
LVERs and DVOPs provide vital network for veterans and work closely with employers, other government agencies and services organizations, such as the American Legion and Veterans of Foreign Wars, to assist former military service people. Through the LVERs, DVOPs and additional state programs focused on veterans, the Christie Administration has continued a strong commitment in the Garden State to assist people who are transitioning out of military service to civilian life and those veterans of past conflicts who require assistance ranging from re-employment to housing needs.
"Our nation is deeply indebted to the sacrifices that our service people have made and continue to make to protect us all. The Department of Labor and Workforce Development, as all state agencies, remains committed to the partnerships we have formed with many organizations to connect veterans who are looking for employment to employers, and to offer additional assistance to those veterans who need it," said Commissioner Wirths.
The American Legion presented the following honors:
Kimberly Johnson, DVOP of the Year Award
John Lehnert, LVER of the Year Award
Morris County One-Stop Manager Carl Jablonski, Employment Service Local Office of the Year Award
Through the collective efforts of many state agencies, including the Labor Department, the State of New Jersey is in the forefront of innovation when servicing the veterans. Job fairs, workshops and individual career guidance offered to every veteran have all helped thousands of former service members. For nearly three decades, New Jersey's LVER and DVOP programs have ensured that veterans are treated with dignity, compassion and understanding.
The Department of Labor and Workforce Development encourages veterans seeking employment to contact the department veterans program via:
• Email: Jobs4JerseyVets@dol.state.nj.us
• Phone: (609) 777-1042
• Also visit veteran representatives at the nearest One-Stop Career Center (locations available at:
http://careerconnections.nj.gov/careerconnections/plan/support/njccsites/one_stop_career_centers.shtml )
Veterans may also explore additional employment services at: http://careerconnections.nj.gov/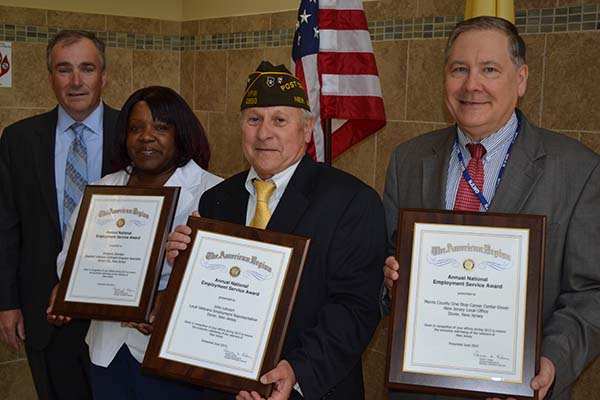 Labor Commissioner Harold J. Wirths (left) congratulated Kimberly Johnson, John Lehnert and Carl Jablonski on their American Legion honors at the Morris County One-Stop in Randolph.