Aug-04-14 Acting Governor Guadagno Emphasizes Importance Of Manufacturers To New Jersey's Economy With Visit To TRUMPF Photonics
Cranbury Manufacturing Company's Employees Benefit from Workforce Training Grants

For Immediate Release
Thursday, August 4, 2014
Contact: Michael Drewniak
Kevin Roberts
609-777-2600
Contact:
Brian T. Murray: 
TEL: 609.984.2841
FAX: 609.777.3634
Email: MediaCalls
 

 

 
Trenton, NJ – Following last week's manufacturing roundtable, Acting Governor Kim Guadagno today visited TRUMPF Photonics in Cranbury to highlight New Jersey's manufacturing business community.  The Acting Governor was joined by Department of Labor and Workforce Development Commissioner Harold J. Wirths.

"New Jersey has always taken pride in its highly skilled and well-educated workforce, and New Jersey's workforce training grants give our companies and their employees an edge through specialized training," said Acting Governor Guadagno.  "New Jersey's companies recognize that capable employees make a strong business. TRUMPF Photonics carries on that history of excellence through its emphasis on employee support and efficient, high-quality production."

Acting Governor Guadagno hosted a manufacturing roundtable in Trenton on July 31st, offering manufacturers from throughout New Jersey an opportunity to speak directly with State policymakers, including State Treasurer Andrew P. Sidamon-Eristoff, Secretary of Higher Education Rochelle Hendricks, Department of Environmental Protection Deputy Commissioner Michele Siekerka, Department of Labor and Workforce Development Deputy Commissioner Aaron Fichtner, PhD. and representatives from the State's Partnership for Action.  The discussion was hosted by New Jersey Manufacturers Insurance Company.

Today's visit underscores TRUMPF Photonics' success in using workforce training grants.  The company trained 134 employees for Six Sigma Process Improvement using a Skills4Jersey training grant through the Department of Labor and Workforce Development.  TRUMPF also received a Customized Training Grant in Fiscal Year 2012.

"Our employees are an important component of our success," said Dr. Georg Treusch, Managing Director of TRUMPF Photonics, Inc.  "We are committed to investing in their education, professional knowledge base, and health so that they can grow professionally, culturally, and socially.  Our long-term commitment to our employees is part of TRUMPF's tradition as a family-owned business."

TRUMPF Photonics is part of TRUMPF Inc., the North American subsidiary of the TRUMPF Group, a world leader in sheet metal fabrication machinery and industrial lasers based near Stuttgart, Germany.  The TRUMPF Group was founded in 1923 and is a family-run business.  With approximately 626 employees, TRUMPF Inc. is the largest subsidiary within the TRUMPF Group and is one of the largest manufacturers of fabricating machinery in the United States.

"TRUMPF represents the advanced manufacturing operations in New Jersey that are becoming increasingly important to the growth of the Garden State economy," said Commissioner Wirths. "This industry sector is requiring more and more skilled employees, and paying higher salaries as a result, which is why we launched the New Jersey Manufacturing Training Initiative with the New Jersey Community College Consortium and New Jersey Business and Industry Association to train more people for careers in advanced manufacturing."

Strategically located in the center of the Eastern Seaboard, New Jersey is an ideal location for manufacturing. With an annual average of more than 9,000 manufacturers, New Jersey is ranked 12th for manufacturing among US states.  Manufacturing contributed more than $41.6 billion to the state's $509 billion Gross Domestic Product in 2013 and accounts for 89.9 percent of New Jersey's exports.In 2013, more than $18 million was awarded through the Skills4Jersey grant program. Businesses looking for more information on workforce training grants and other incentives offered through the State are encouraged to call New Jersey's Business Action Center at (866) 534-7789 or visit the State's Business Portal at www.newjerseybusiness.gov.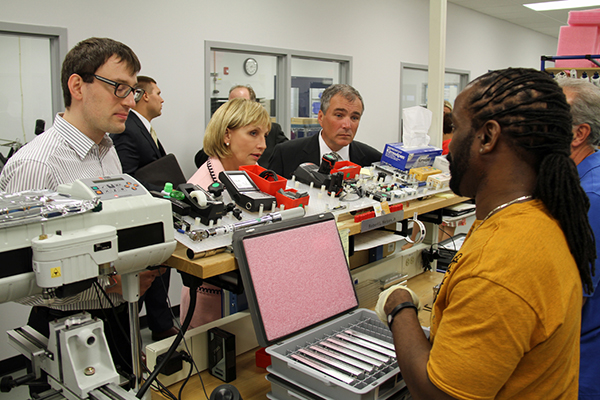 Acting Governor Kim Guadagno and Department of Labor and Workforce Development
Commissioner Harold J. Wirths visit TRUMPF Photonics in Cranbury to highlight New Jersey's
manufacturing business community.