Aug-06-14 New Jersey's Talent Networks Join Gloucester County Workforce Summit
Contact:
Brian T. Murray:
TEL: 609.984.2841
FAX: 609.777.3634
Email: MediaCalls




-News Release-
GLASSBORO, N.J., Aug. 6, 2014 _ Leaders of New Jersey's Talent Networks, built to assist the Garden State's seven key industry clusters, met with 75 employers today at the Gloucester County Workforce Summit on the campus of Rowan University.

The gathering, hosted by the Gloucester County Workforce Investment Board, was designed to demonstrate how the Talent Networks, created by the New Jersey Department of Labor and Workforce Development, can assist businesses in finding skilled employees, business resources and to build awareness of career opportunities. The seven Talent Networks are focused on seven industry clusters that employ two-thirds of New Jersey's workers and pay two-thirds of all wages in the state.

The Talent Networks represent Advanced Manufacturing; Financial Service; Health Care; Life Sciences; Retail, Hospitality and Tourism; Technology & Entrepreneurship, and Transportation, Logistics and Distribution. With these industry clusters driving New Jersey's economic growth, the Department of Labor is working to ensure that people who are looking for viable employment and long-term careers in the Garden State have the exact skills required to secure jobs in these industry clusters.

For more information visit http://careerconnections.nj.gov/careerconnections/partners/talent/talent_networks.shtml and click on the Talent Networks link.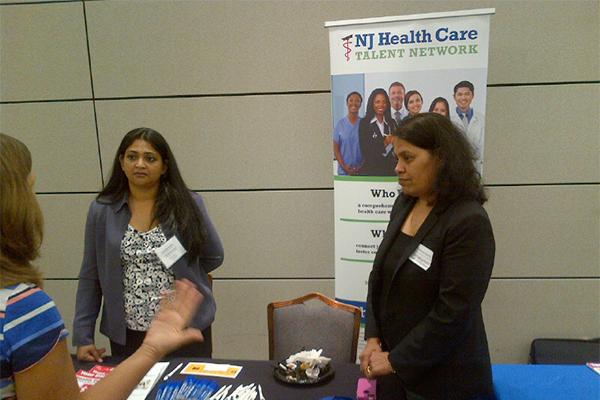 Padma Arvind, Director of New Jersey's Health Care Talent Network, (pictured right) greeted
many of the employers who attended the Gloucester County Summit. Leaders of all seven
New Jersey Talent Networks attended the summit.