Aug-19-14 Christie Administration and Business Leaders Join New Jersey Community College Consortium in Celebrating 10 Year Anniversary and Manufacturing Initiative
Contact:
Brian T. Murray: 
TEL: 609.984.2841
FAX: 609.777.3634
Email: MediaCalls
 

 



-News Release-
BLACKWOOD, N.J., Aug. 19, 2014 – The Christie Administration saluted the arrival of a second mobile manufacturing training lab in New Jersey as it was unveiled today at Camden County College during the 10th Anniversary celebration of the New Jersey Community College Consortium for Workforce and Economic Development (NJCCC).


The New Jersey Department of Labor and Workforce Development, state business leaders, local officials and leaders of the state's network of community colleges toured the mobile lab, a manufacturing learning workshop on wheels, as they joined the NJCCC in marking its 10th year of providing workforce training for Garden State employers through the state's 19 community colleges.

The NJCCC has been a key part of the New Jersey Manufacturing Training Initiative, a joint effort by the NJCCC, Labor Department and the New Jersey Business and Industry Association (NJBIA) to give the state's workforce the skills needed to boost Garden State manufacturing. The mobile lab launched yesterday by Camden County College is one of two mobile training centers that will help the initiative.

"It's a pleasure to partner with the Consortium and NJBIA to provide training that will help job-seekers obtain the skills that are crucial to one of New Jersey's key industry sectors – manufacturing," said New Jersey Labor Commissioner Harold J. Wirths. "Manufacturing, specifically the lean operations of advanced manufacturing, is important to our state economy. Our partnership promises to provide manufacturing employers with the properly trained workers that will help the industry and increase the availability of sustainable jobs in the Garden State."

Equipped with nearly 400 square feet of classroom space, the mobile labs are the first of their kind in New Jersey and were made possible by a federal grant obtained by Camden County College. Each unit contains computers and hands-on equipment for 10 students and will train unemployed workers in the advanced manufacturing areas of CNC (Computer Numerical Control), metal fabrication and mechatronics.

The mobile labs are key components in the New Jersey Manufacturing Training Initiative that was launched two years ago. The Consortium coordinates the New Jersey Manufacturing Training Initiative and brings training resources from the state's 19 community colleges to local manufacturers. The first mobile lab debuted in April 2014.

"Our focus to connect New Jersey's private businesses with incumbent and new employee training through existing funding streams has been strongly supported by the state Department of Labor and Workforce Development over these years," said Sivaraman Anbarasan, executive director of NJCCC. "On this 10th anniversary of the Consortium, we take pride in having served over 5,400 New Jersey businesses to bridge the skills gap of 100,000 workers through the state's 19 community colleges. The community college sector thanks this administration and the Labor Department for their unwavering commitment to strengthening economic development through workforce training initiatives at community colleges."

"New Jersey has always had excellent community colleges," said Melanie Willoughby, acting president of the NJBIA. "What the Consortium did was create a meaningful connection between what our county colleges had to offer and our members' need for skilled employees."

At the Camden County College event today, officials also applauded the ninth graduating class of the Manufacturing Training Initiative. The program boasts a 90 percent job-placement rate and all have passed and earned their NIMS (National Institute for Metalworking Skills) certification, which is highly valued within New Jersey's lean and advanced manufacturing industry.

In CNC machining trained workers operate computer-guided machinery programmed to perform multiple functions in the manufacturing process.

"The skills these graduates have obtained are in high demand by New Jersey manufacturers and clearly demonstrate that successful training initiatives must focus on providing job seekers with the skills our employers identify as essential to their businesses," said Commissioner Wirths.

"Employers need to know that they have access to skilled workers, not just today, but well into the future," said Willoughby. "With the help of the County College Consortium, we have taken an important step to ensure businesses have an appropriately skilled workforce."

For more information about the Fabricated Metal Product / CNC Machining Manufacturing Training Program and admission requirements please go to www.njworkforce.org.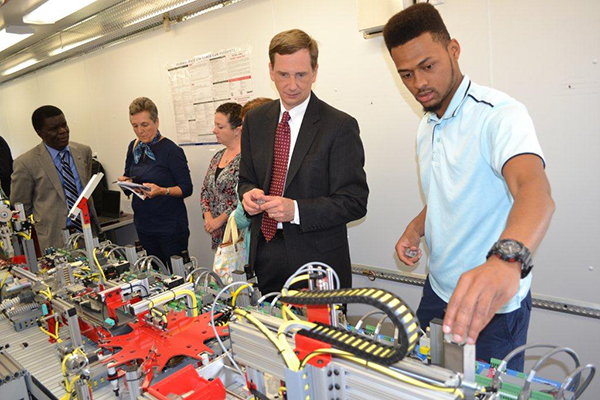 Aaron Fichtner, Deputy Commissioner, New Jersey Department of Labor and Workforce Development, tours the new mechatronics mobile training lab located on the Camden County College campus in Blackwood. The new mobile training lab was unveiled during the 10th anniversary celebration of the New Jersey Community College Consortium for Workforce and Economic Development