Sep-17-14 Christie Administration Continues On-The-Ground Efforts To Help Displaced Casino Workers
Labor Department Assisting Impacted Casino Workers at Boardwalk Hall
Contact:
Brian T. Murray:
TEL: 609.984.2841
FAX: 609.777.3634
Email: MediaCalls




-News Release-
TRENTON, Sept 17, 2014 – The New Jersey Department of Labor and Workforce Development today helped workers impacted by the closing of the Trump Plaza Casino, as Governor Chris Christie continued to aid Atlantic City casino workers through a massive re-employment effort launched when the first casino closed earlier this year.

Department of Labor staff joined the Unite Here casino union, which opened a response center at Boardwalk Hall today in space provided by the Casino Reinvestment Development Authority (CRDA) to assist any casino worker seeking help. The Department of Labor deployed about 20 staffers to offer the workers guidance on job training opportunities, skills assessments, resume development, filing for unemployment insurance, job search assistance and referrals to the state's Jersey Job Clubs
The Unite Here union linked the workers to personal and social assistance. This is the second response center opened by the union in partnership with the Department of Labor. On Sept. 3, a center was established at the Atlantic City Convention Center in space provided by the CRDA after the closings of Showboat Atlantic City Hotel and Casino and the Revel Casino Hotel.
"Our focus since the first casino closing in January has been on re-employing people impacted by the industry re-alignment in Atlantic City and making certain those who need unemployment assistance get it quickly. We are committed to getting everyone connected with employment opportunities as soon as possible," said New Jersey Labor Commissioner Harold J. Wirths.
What is being called the Atlantic City Unites Here Center is now located at Boardwalk Hall, 2301 Boardwalk, in Atlantic City and will remain open through Friday, from 9 a.m. to 4 p.m.. The Department of Labor has already been meeting and assisting Trump Plaza workers inside the casino for the past two weeks to assist them before the closing.
Last week, the Department of Labor also hosted its largest single career fair at the Atlantic City Convention Center, where more than 1,500 job-seekers turned out to meet with 60 employers looking to fill about 1,500 positions.
Impacted workers are being instructed to use the state's Jobs4Jersey.com website, where they can upload resumes through the OnRamp service or allow the system to create resumes that will share their profiles with thousands of employers. OnRamp is currently listing about 300,000 available positions inside New Jersey and within a 50 mile radius of the state. Jobs4Jersey.com also links to the Jersey Job Clubs, which provide job-seekers with the latest data on emerging industries and employment prospects.
The Department of Labor continues to assist affected workers in coordination with the casinos, Atlantic City officials, several South Jersey county leaders and other key partners, including the New Jersey Hospitality, Tourism and Retail Talent Network; Atlantic Cape May and Cumberland Salem Workforce Investment Boards; the Atlantic Cape Community College, business organizations and state and local economic development organizations.
The Atlantic City Unites Here Center will be open daily at 9 a.m. to 4 p.m.
To keep alert to all state Department of Labor activities and services regarding Atlantic City, go to:
http://careerconnections.nj.gov/ and click on the Atlantic City Reemployment button.
Employers interested in hiring the displaced casino workers should send an email to:
jobs4jerseyemployer@dol.state.nj.us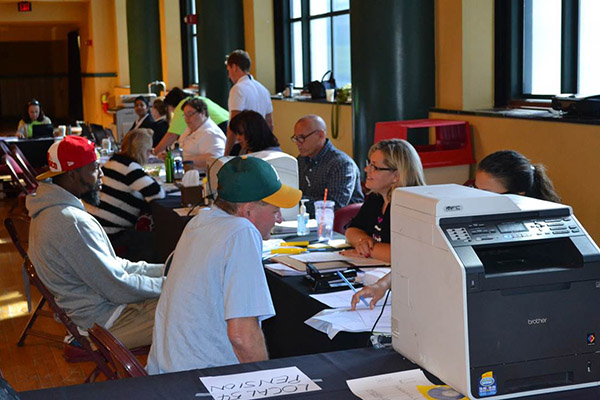 The Department of Labor and Workforce Development continued on-site efforts today at Boardwalk Hall in Atlantic City to help displaced casino workers following the closure of Trump Plaza Casino.