Sep-29-14 Christie Administration Kicks off ManufactureNJ Week at NJIT
New Jersey Manufacturing Industry Highlighted Sept.29 thru Oct. 3
Contact:
Brian T. Murray: 
TEL: 609.984.2841
FAX: 609.777.3634
Email: MediaCalls
 

 



-News Release-
NEWARK, N.J., Sept. 29, 2014 – The Christie Administration kicked off ManufactureNJ Week today at the New Jersey Institute of Technology (NJIT), underscoring the importance of the manufacturing industry to the state's economy and highlighting contributions New Jersey manufacturers make in the Garden State, nationally and globally,

"New Jersey has a rich history of manufacturing and a strong role to play in the evolving lean and advanced manufacturing operations that are leading this industry sector today," said state Labor Commissioner Harold J. Wirths. "The partnership that my department has with NJIT and our ManufactureNJ Talent Network will help prepare job-seekers for the high-skilled opportunities available in manufacturing. By building that skilled pool of talent, we continue to help New Jersey companies successfully compete in the global market."

The importance of manufacturing in the United States was driven home at the kick-off by guest speaker John Ratzenberger, the Emmy-nominated actor and entrepreneur who starred in the television comedy "Cheers" and more recently hosted the documentary series "Made in America," which highlights manufacturing in the United States and the variety of products produced.

Jeffrey Stoller, assistant commissioner of the New Jersey Department of Labor, also spoke at the kick-off as he presented proclamations from Governor Chris Christie declaring September 29 through October 3, 2014 to be ManufactureNJ Week. He presented the framed proclamations to NJIT President Joel S. Bloom, Associate Vice President of Continuing and Distance Learning Education Gale Tenen Spak and Raymond Vaccari, director of the ManufactureNJ Talent Network.

"Manufacturing in New Jersey dates back to the nation's earliest days, when Treasury Secretary Alexander Hamilton envisioned the Great Falls at Paterson as the site for a planned industrial town.  So it is no surprise that New Jersey employers and universities are here today working with state and local officials to usher in a new generation of Advanced Manufacturing initiatives," said Assistant Commissioner Stoller. 

"Technology has transformed this sector in many ways over the centuries, but it remains a potential source for new products, new levels of productivity, and new opportunities for high-skill employment," he added.

Organized by New Jersey's Manufacturing NJ Talent Network and other partners, ManufactureNJ Week will run from September 29 through October 3, and it will coincide with the nationally observed Manufacturing Day on October 3. Labor Commissioner Wirths will offer the welcoming remarks that day at the "Building A 21st Century Manufacturing Economy" convention hosted at the Palace Hotel in Somerset, N.J. by NJBIZ Magazine and the New Jersey Manufacturing Extension Program.

ManufactureNJ Week focuses on advanced manufacturing – a leaner, more efficient system of manufacturing operations employing innovative technology to improve products and processes.

Today's kick off showcased the Garden State's advanced manufacturing industry via panel discussions featuring manufacturing company CEO's, educational leaders and manufacturing associations; and a screening of the documentary, "American Made."

"Manufacturing is growing in New Jersey due to increased efficiencies from automation, robotics and other advanced manufacturing processes. ManufactureNJ Industry Week is a recognition and celebration of these phenomena. Organizations throughout the state are working to develop the talent needed to support this growth," said Raymond Vaccari, Director of the ManufactureNJ Talent Network.

ManufactureNJ Week, now in its third year, will hold multiple events throughout the state to include advanced manufacturing plant tours, a career day and job fair, and a Made in New Jersey event featuring key note speakers and panel discussions.

For information and a schedule of events planned for ManufactureNJ Week, go to: www.ManufactureNJ.org.

Manufacturing accounts for approximately 241,400 in New Jersey with about 55 percent of those jobs classified as advanced manufacturing. The ManufactureNJ Talent Network, which was created and funded by the New Jersey Department of Labor and Workforce Development and sponsored by NJIT, is one of seven Talent Networks designed to focus on seven key industry clusters in the Garden State that employ more than two-thirds of New Jersey workers and pay more than two-thirds of the wages paid annually.

The Talent Networks engage industry employers to pinpoint relevant skills job-seekers need to get jobs in those major industry clusters with educational institutions, employee training providers, state officials and job-seekers. In turn, the properly trained employees can help New Jersey businesses become more competitive and productive, which benefits the state's overall economy. 

The New Jersey Talent Networks have been created around the following industry clusters: Advanced Manufacturing, Life Sciences; Transportation, Logistics and Distribution; Health Care; Financial Services; Technology and Entrepreneurship, and Retail, Hospitality and Tourism.

To learn more about Manufacturing Day, go to www.mfgday.com.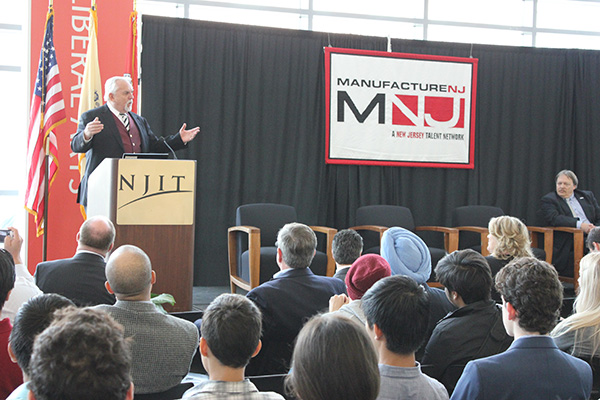 John Ratzenberger, the Emmy-nominated actor and entrepreneur who starred in the television comedy "Cheers" and more recently hosted the documentary series "Made in America," spoke of the importance of manufacturing in the United States today at the kick-off of ManufactureNJ Industry Week.