Oct-01-14 Christie Administration Hosts Essex County Hiring Fair for Veterans
Wounded Warriors Project Guest Speaker Joins Event
Contact:
Brian T. Murray: 
TEL: 609.984.2841
FAX: 609.777.3634
Email: MediaCalls
 

 



-News Release-
WEST ORANGE, N.J., Oct. 1, 2014  – The Christie Administration partnered today with Essex County to hold a targeted job fair for veterans at the New Jersey National Guard Armory in West Orange, featuring a motivational speaker from the Wounded Warrior Project. 



The New Jersey Departments of Labor and Workforce Development and Military and Veterans Affairs sponsored the event with the Essex County One-Stop Career Center, with Jason Braase from the Wounded Warrior Project sharing his personal story of overcoming wartime injuries to spur on the group of more than 100 veterans who attended. The hiring fair was arranged to help veterans meet face-to-face with about 50 employers ranging from the Federal Bureau of Investigation, United Airlines, Nestle Water and NJ Transit to Home Depot, Pfizer, ThorLabs, FedEx and Atlantic Health Systems. 

"It is an honor to host such a distinguished guest speaker at yet another one of our efforts to link former military people with employment opportunities. The words of encouragement and inspiration from Mr. Braase certainly added to the positive efforts undertaken today by our Essex County One-Stop personnel and our veteran representatives to assist veterans," said Commissioner Harold J. Wirths of Department of Labor and Workforce Development. "I thank the employers for joining us today to provide new opportunities for our former servicemen and servicewomen." 

Braase, wounded in Iraq from an IED blast that sent shrapnel through his leg, now speaks on behalf of the Wounded Warrior Project, which works to honor, empower and assist wounded service members.

Assistant Labor Commissioner Jeffrey Stoller spoke at the event, presenting Braase with a letter of recognition from Commissioner Wirths thanking him for his service to the nation, for inspiring veterans during their peace-time adjustment and for participating in the career fair. 

In part, the letter stated, "Getting our former military people gainfully employed is the least we can do for those who left their families and civilian lives behind to defend our nation." 

The New Jersey Department of Labor regularly participates in career fairs each month throughout the state to assist veterans seeking employment. To find out more, visit Jobs4Jersey.com and click on the Job Fair link. 

Keep up with Department of Labor activities and job openings by following us on Twitter @Jobs_4_Jersey.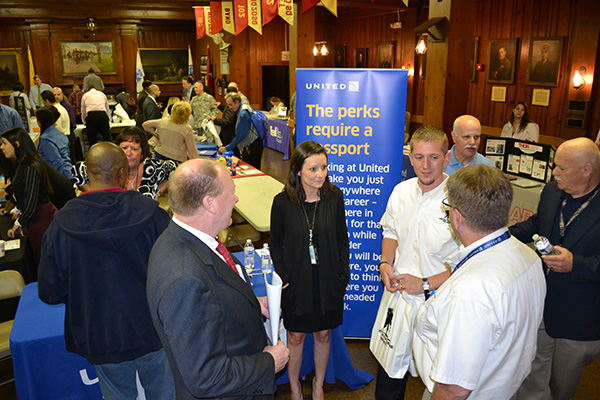 Jason Braase from the Wounded Warrior Project (center, white shirt and bag) spoke with Assistant Commissioner Jeff Stoller (left) and employer representatives following his motivational speech to veterans during a morning session at the Essex County Veteran Career Fair. Les Wexler and Joe Siegel of the Essex County One Stop Career Center (pictured to the right, behind Brasse) helped to organize the event, which attracted more than 150 veterans.