Jan-13-2015 Talent Network Launches "Financial Services Industry Week" at Mercer County College
Employment Opportunities in New Jersey's Financial Services Industry Showcased
Contact:
Brian T. Murray:
TEL: 609.984.2841
FAX: 609.777.3634
Email: MediaCalls




-News Release-
TRENTON, Jan. 13, 2015 – Financial Services Industry Week kicked off in New Jersey yesterday, bringing together employers, job-seekers, educators and students to highlight career opportunities and raise awareness about the important role the financial services businesses play in driving the Garden State economy.

Representatives from banking, insurance, accounting and lending firms joined various chambers of commerce, business organizations and state government agencies at the event to network and gain feedback on the direction the industry is moving. They also learned how the state's Financial Services Talent Network which is funded by the state Department of Labor and Workforce Development and managed by the African-American Chamber of Commerce of New Jersey, provides resources to assist companies in finding qualified workers, obtain training assistance and learn about discover development opportunities.
"The financial services industry is vital to the state, national and global economies because it provides the resources that promote job creation and sustain economic growth and innovation. Our Financial Services Talent Network can help employers connect with the talent and resources they need to be successful, and we are fortunate to have the African-American Chamber of Commerce of New Jersey leading that effort," said New Jersey Labor Commissioner Harold J. Wirths.
The Financial Services Talent Network is one of seven Talent Networks created by the Department of Labor to focus on the industry clusters employing more than two-thirds of New Jersey workers and pay more than two-thirds of the wages paid annually.
"It's an exciting time for New Jersey's financial industry," said Charles Wallace, executive director of the Financial Service Talent Network. "Today's event is an opportunity to let people know that there are many opportunities within the financial services industry. We want to work collaboratively with employers, job-seekers and educators to ensure we bridge the gap between the needs of our industry employers and the education and training of current and prospective financial services employees."
New Jersey's financial services industry is supported by a strong business services sector and an excellent talent pool with more than 35 percent of its entire workforce obtaining a bachelor's degree or higher. Looking ahead, the Department of Labor's Office of Research and Information reports a rise in financial sector employment to more than 211,000 workers or a 6.9 percent increase by 2020.
The state's seven Talent Networks help to match businesses with qualified workers, and they engage industry employers to pinpoint the relevant skills that job-seekers need to get jobs in those major industry clusters. Talent Networks then provide that information to the state's educational institutions, employee training providers, state officials and job-seekers. In turn, properly trained employees can help New Jersey businesses become more competitive and productive, which benefits the state's overall economy.
Six other Talent Networks have been created around the following industry clusters: Life Sciences; Transportation, Logistics and Distribution; Health Care; Advanced Manufacturing; Technology and Entrepreneurship; and Retail, Hospitality and Tourism.
Financial Services Industry Week continues through Friday, January 16, 2015. Activities include:
Financial Services Job Fairs
January 13 – Passaic Community College (1 College Blvd., Paterson, NJ 07505)
January 14 – Hudson Community College (161 Newkirk Street, Jersey City, NJ 07306)
January 15 – Gloucester County Clayton Complex Auditorium (1200 N. Delsea Rd., Clayton, NJ 08312)
The New Jersey Economic Leadership Forum.
January 16 – The Palace of Somerset (333 Davidson Ave., Somerset, NJ 08873)
Employer2Jobseeker Networking Event
January 16 – Burlington One-Stop Career Center (795 Woodlane Rd., Westampton, NJ 08060)
For a full schedule of activities during Financial Services Week go to http://www.financialservicesnj.org or contact the Financial Services Talent Network:
Charles A. Wallace, Executive Director
Cwallace@aaccnj.com
609-571-1607
James Logan, Project Manager
Jlogan@aaccnj.com
609-571-1607
For information about New Jersey's Talent Networks go to: http://careerconnections.nj.gov/careerconnections/partners/talent/talent_networks.shtml.
For information about New Jersey's key industry sectors go to:
http://careerconnections.nj.gov/careerconnections/plan/career/the_right_career_for_you_index.shtml.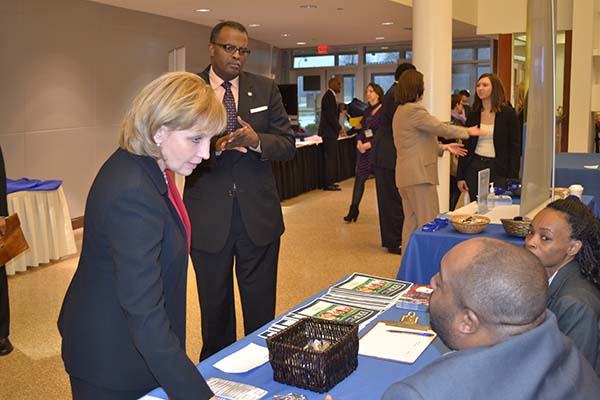 Lt. Governor Kim Guadagno accompanied by John Harmon, President & Chief Executive Officer of the African American Chamber of Commerce of New Jersey, visits with employers looking to hire talent at the opening of Financial Services Industry Week held at Mercer County College.