Apr-08-15 Christie Administration Spotlights Health Care Career and Educational Opportunities During Week of Industry Events
Contact:
TEL: 609.984.2841
FAX: 609.777.3634
Email: MediaCalls




-News Release-
NEW BRUNSWICK, N.J., April 8, 2015 – Highlighting a Garden State industry that flourished through the recession and continues to expand, the Christie Administration kicked off its third Health Care Industry Week at Rutgers University in New Brunswick today. The annual event organized by the New Jersey Health Care Talent Network features a week of events to spotlight career opportunities and contemporary health care technology, discover educational pathways within the health care field, offer resources for employers to obtain talent and give job-seekers access to employers with open positions.

"Health care is one of New Jersey's priority industry sectors and is an essential component in our state's economic growth," said Commissioner Harold J. Wirths of the Department of Labor and Workforce Development. "The Garden State continues to add jobs in this industry which is why my department created the Health Care Talent Network. We want to strengthen connections with employers so they can identify skills and training they want prospective employees to have and education establishments can equip our workforce with the training for those emergent jobs."
The kick-off event was punctuated by the official signing of program standards for a new pilot apprenticeship program for community health workers – the first-ever model in the country by John V. Ladd, national administrator, Office of Apprenticeship, Employment & Training Administration at the United States Department of Labor and Susan Schurman, dean at Rutgers' School of Management and Labor Relations. The apprenticeship offers an entry-level job in the health care industry and includes 160 hours of classroom training and 2,200 hours of on-the-job training. Several hospitals have agreed to serve as apprenticeship sites and the program is set to launch this month with 20 students.
"Career pathway-oriented workforce development is recognized as an effective way to increase skills, attain knowledge, and improve employment prospects of individuals while meeting the needs of employers for specialized sector knowledge, skill sets, and competencies," said Padma Arvind, director of the New Jersey Health Care Talent Network. "This year during our Health Care Industry Week we are highlighting pathways in nursing careers and presenting possible pathways for someone who may be working as a certified home health aide, for example, to move towards a baccalaureate degree in nursing. The new apprenticeship program gives students an opportunity to acquire stackable credential training which can be articulated to an associate degree or lead to an undergraduate degree in social work, nutrition, mental health or human science."
Following remarks from several speakers including Dean Schurman; Edna Cadmus, clinical professor at Rutgers; and Monique Howard, executive director of the Office of Women's Health at the New Jersey Department of Health, Deputy Labor Commissioner Aaron Fichtner presented a proclamation signed by Governor Chris Christie declaring April 6 through April 10 as Health Care Week in New Jersey.
The approximately 300 participants attending the opening of Health Care Industry Week could tour a "medical village" operated and staffed by St. Peter's University Hospital with interactive displays and demonstrations about specific nursing careers. St. Peter's University Hospital also provided free health screenings for vision, skin cancer, blood pressure, and cholesterol. Free appointments for mammogram screenings were provided to underinsured and uninsured women over 40 years of age, as well as free digital prostate exams for underinsured and uninsured men.
A job fair helped to connect job-seekers looking for positions in the health care industry with 50 employers who were looking to hire.
The Health Care Talent Network is funded by the Department of Labor and Workforce Development through a grant to Rutgers School of Management and Labor Relations. The Health Care Talent Network is one of seven Talent Networks created by the Labor Department focusing on the industry sectors that employ more than two-thirds of New Jersey workers and pay more than two-thirds of annual wages. The six other Talent Networks have been created around the following industry clusters: Life Sciences; Transportation, Logistics and Distribution; Financial Services; Advanced Manufacturing; Technology and Entrepreneurship; and Retail, Hospitality and Tourism.
The state's seven Talent Networks help to match businesses with qualified workers, and engage industry employers to pinpoint the relevant skills job-seekers need to get jobs in those major industry clusters. Talent Networks then provide that information to the state's educational institutions, employee training providers, state officials and job-seekers. In turn, properly trained employees help New Jersey businesses become more competitive and productive, which benefits the state's overall economy.
Health Care Industry Week continues through Friday, April 10, 2015. Other events include:
April 8 – Diversity in Health Care Workforce at Essex County College; Job Fair at the Morris County School of Technology
April 9 – The Heart of Care: An Educational Conference for Direct Care/Support Workers at Middlesex County College
Go to www.hctn-nj.org for a full schedule of Health Care Industry Week events.
For more information about New Jersey's Talent Networks go to http://careerconnections.nj.gov/careerconnections/partners/talent/talent_networks.shtml.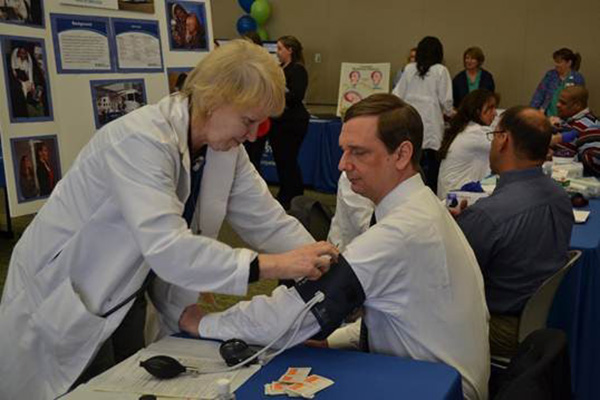 Deputy Commissioner Aaron Fichtner takes advantage of the free health screenings available during the kick-off event of the Health Care Talent Network Industry Week held at Rutgers University in New Brunswick.