Apr-30-15 Lt. Governor Guadagno Congratulates Wells Fargo For Exemplary Veteran Hiring Practices
Stakeholders Applaud Company's Support for Veteran Employees, Recognize May as Military Appreciation Month
Contact:
Kerri Gatling
TEL: 609.984.2841
FAX: 609.777.3634
Email: MediaCalls


For Immediate Release
Thursday, April 30, 2015
Contact: Kevin Roberts
Brian Murray (609) 777-2600
Trenton, NJ – Lt. Governor Kim Guadagno and Department of Labor and Workforce Development (LWD) Commissioner Harold J. Wirths today visited Wells Fargo in Summit to recognize the company's strong history of hiring veterans, active service members and their spouses and to encourage other companies to follow its example. The Lt. Governor and Commissioner Wirths were joined by community stakeholders, including representatives from Essex County College and Thomas Edison State College.
During her visit, the Lt. Governor presented Wells Fargo with a proclamation recognizing May as Military Appreciation Month in New Jersey. Then-Acting Governor Guadagno signed legislation creating the annual observance last July.
"Companies like Wells Fargo, with the help of community organizations and higher education, make it easier for our veterans to stop fighting and start working," said Lt. Governor Guadagno. "We know veterans have the skills and the drive. All that's needed is the opportunity to succeed."
Wells Fargo employs more than 7,600 veterans nationally, hiring 1,100 veterans last year alone. The company provides support for hiring veterans at every stage of the process, offering training courses to help staff recruit and hire veterans, participating in veteran-specific hiring events, partnering with community military organizations, and supporting veteran employees through its Veteran Team Member Network.
"I am honored to join Lt. Governor Kim Guadagno today to recognize Wells Fargo for their commitment to hiring veterans who have sacrificed a great deal for our country," said Commissioner Wirths. "My department is also committed to connecting New Jersey's veterans with employment opportunities through our veteran representatives and helping them transition their military skills to jobs that will help them to reach their career goals and support their families."
LWD serves veterans at its 34 One Stop Career Centers. Forty representatives, all of them veterans themselves, specifically assist former military service people with job placement. The Department also participates in dozens of veteran-focused hiring fairs annually and provides employment resources for veterans on its website at: http://careerconnections.nj.gov/careerconnections/plan/foryou/veterans/veteran_services.shtml.
"In the workplace, Wells Fargo values the leadership, discipline and service record of military members and veterans, employing more than 7,600 team members today across the U.S. who self-identify as veterans," said Larisa Perry, Wells Fargo Northeast Lead Region President. "The company is also committed to increasing its veteran team member population to 20,000 by 2020. That's because we know from experience that if you hire a veteran – you're getting a great, productive employee. They're hard-working, motivated team players with a proven ability to quickly learn new skills and concepts."
# # #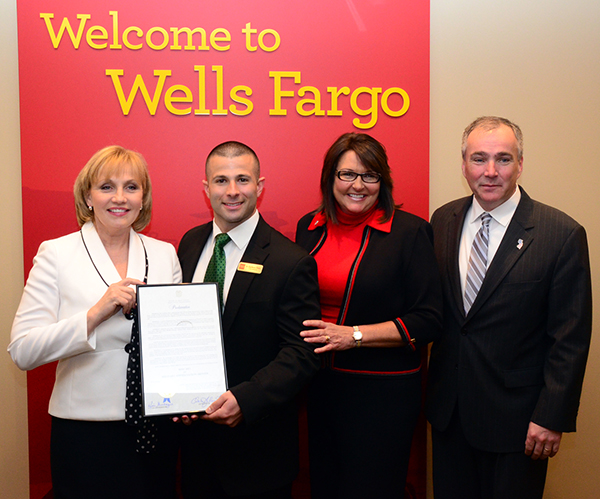 Commissioner Harold J. Wirths (right) joined Lt. Governor Kim Guadagno (left) to highlight Wells Fargo for its commitment to hiring veterans and active duty military personnel and recognize May as Military Appreciation Month. Lt. Governor Guadagno presented a proclamation to Zach Finn (2nd left), a veteran and an employee at Wells Fargo and Larissa Perry, Northeast Lead Region President for Wells Fargo.