Jun-24-15 Christie Administration Participates in Ribbon Cutting of Youth One-Stop in Camden
State Labor Commissioner Joins Local Officials to Celebrate Opening of New Center for Camden County Youth
CAMDEN, N.J., June 24, 2015 – The Christie Administration helped to celebrate a milestone in Camden today, joining local officials and members of the Camden County Workforce Investment Board to cut the ribbon for the opening of the first Youth One-Stop Center in New Jersey.
The new facility will assist at-risk, out-of-school young people who range from 16 to 24 years old.
"Investing in young people makes good common sense and economic sense," said Commissioner Harold J. Wirths of the New Jersey Department of Labor and Workforce Development. "This new Camden County Youth One-Stop will give young people who may have gotten off track an opportunity to find their way, gain skills that are in demand today and get started on a great career path."
The Youth One-Stop will assist with high school completion, work experiences, occupational skills training, leadership development and other supportive services. For more information about the Youth One-Stop email: youthonestop@camdencounty.com or call 1 (877) 995.2600.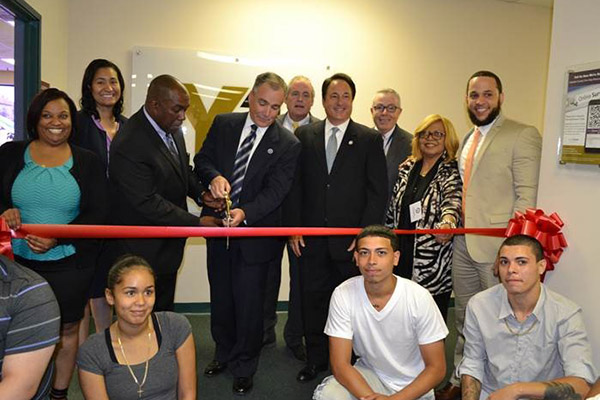 New Jersey Labor Commissioner Harold J. Wirths cuts ribbon for new Youth One-Stop
in Camden County with Camden County Freeholder Jonathan Young as Jeffrey Swartz,
Executive Director of Camden County Workforce Investment Board and Novella Hinson
Office of Camden City Mayor Dana Redd look on.