Jun-30-15 Christie Administration Connects Workers with Disabilities to Employers Ready to Hire
JERSEY CITY, N.J., JUNE 30, 2015 – The Christie Administration continued to link New Jersey workers with disabilities to employment opportunities yesterday with a targeted job fair at the Hudson County School of Technology in Jersey City.

The "Schedule A" event, hosted by the New Jersey Department of Labor and Workforce Development's Division of Vocational Rehabilitation Services, was open to people with disabilities and disabled veterans with a 30 percent or more service-connected disability. "Schedule A" refers to a hiring authority for federally-funded agencies that allows individuals with disabilities to obtain competitive status in civil service.
Many of the employers participating in the targeted hiring event were government contractors who are required by law to include individuals with disabilities in their workforces. More than 40 employers came to the event ready to fill a variety of jobs from warehouse operators to correctional officers to sales manager trainees.
The Division of Vocational Rehabilitation Services, which operates within the New Jersey Department of Labor, is the central agency for assisting people with disabilities to connect with employers. Individuals are encouraged to connect with local DVRS offices positioned throughout the state to meet with counselors who will work with them to find, obtain and keep the right job.
Employers and job-seekers interested in learning about the programs and services offered by the state Labor Department's Division of Vocational Rehabilitation Services can:
Visit: http://careerconnections.nj.gov/careerconnections/plan/foryou/disable/vocational_rehabilitation_services.shtml
Email: dvradmin@dol.state.nj.us
Call: (609) 292-5987 or (609) 292-2919 (TTY)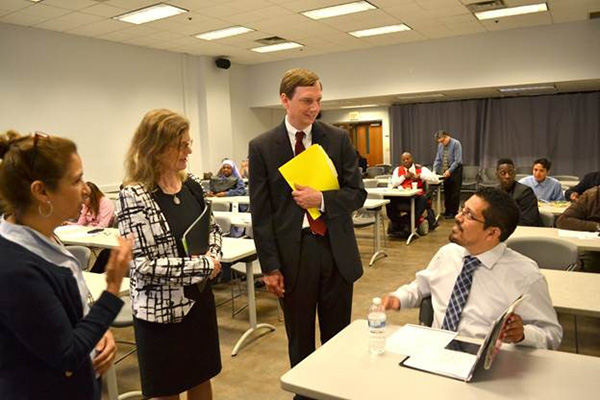 Vocational Rehabilitation Services Director Alice Hunnicutt (standing, center)
and Deputy Commissioner Aaron Fichtner (standing, right) speak with a job seeker at the
Schedule A Hiring Expo in Jersey City.