Dec-09-15 Christie Administration Connects Workers with Disabilities to Employers Ready to Hire
Contact:
Amanda Pisano
TEL: 609.984.2841
FAX: 609.777.3634
Email: MediaCalls




-News Release-
CAMDEN, N.J., December 9, 2015 – The Christie Administration continued to link New Jersey workers with disabilities to employment opportunities today with a targeted job fair in Camden.
The "Schedule A" event, hosted by the New Jersey Department of Labor and Workforce Development's Division of Vocational Rehabilitation Services, was open to people with disabilities and disabled veterans with a 30 percent or more service-connected disability. "Schedule A" refers to a hiring authority for federally-funded agencies that allows individuals with disabilities to obtain competitive status in civil service.
Many of the employers participating in today's targeted hiring event were government contractors who are required by law to include individuals with disabilities in their workforces. Approximately 20 employers, many with multiple job openings, attended the event ready to fill a variety of positions from office assistants to correctional officers to sales manager trainees.
Today's event follows the recent National Disability Employment Awareness Month celebration held annually in October to educate people about disability employment issues and celebrate the many and varied contributions of America's workers with disabilities. That month, state Labor Commissioner Harold J. Wirths delivered the keynote address at an event commemorating the 25th anniversary of the signing of the Americans with Disabilities Act.
The Division of Vocational Rehabilitation Services, which operates within the New Jersey Department of Labor, is the central agency for assisting people with disabilities to connect with employers. Individuals are encouraged to connect with local DVRS offices positioned throughout the state to meet with counselors who will work with them to find, obtain and keep the right job.
Employers and job-seekers interested in learning about the programs and services offered by the state Labor Department's Division of Vocational Rehabilitation Services can:
Visit: http://careerconnections.nj.gov/careerconnections/plan/foryou/disable/vocational_rehabilitation_services.shtml
Email: dvradmin@dol.nj.gov
Call: (609) 292-5987 or (609) 292-2919 (TTY)Content here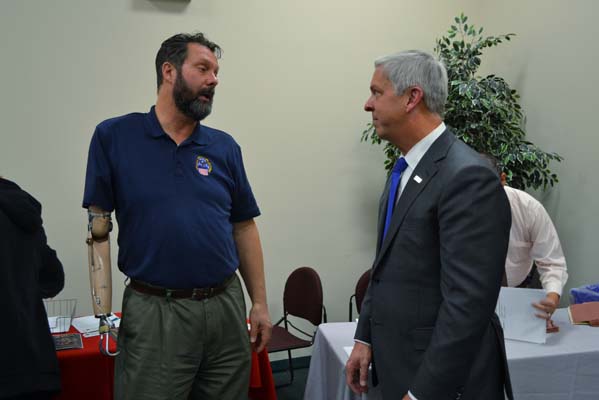 Department of Labor Chief of Staff Gary Hasenbalg (right) talks to an employer at the 6th
Annual Schedule A Targeted Hiring Event in Camden.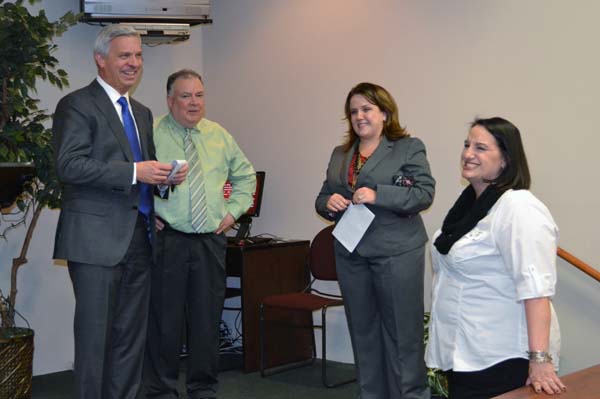 Gary Hasenbalg (far left), Chief of Staff of the New Jersey Department of Labor, talks to staff
from the Division of Vocational Rehabilitation Services Camden Office at the Schedule A
Targeted Hiring Event.