Oct-13-16 Christie Administration Participates in Project SEARCH Kickoff Events
Acting Commissioner Fichtner highlights the importance of Project SEARCH initiative to provide career opportunities for high school students with disabilities
Contact:
Press Office
TEL: 609.984.2841
FAX: 609.777.3634
Email: MediaCalls


PDF VERSION



-News Release-
TEANECK, N.J., October 13, 2016 – Today, Acting Commissioner Aaron R. Fichtner, Ph.D. and Director of Division of Vocational Rehabilitation Services Alice Hunnicutt represented the New Jersey Department of Labor and Workforce Development at kickoff events held for Project SEARCH in Bergen County and Camden County.
Project SEARCH was first developed at Cincinnati Children's Hospital Medical Center in 1996 and seeks to provide students with disabilities in their last year of high school a chance to explore careers and develop transferable skills through a one-year, business-led, unpaid internship program. The program's primary objective is to secure competitive integrated employment for people with significant disabilities.
"The Christie Administration is proud to be partners in New Jersey's first Project SEARCH programs and provide over $250,000 in funding statewide to support this effort," said Acting Commissioner Fichtner. "With this funding students enrolled in Project SEARCH are provided important job coaching and job placement support."
The New Jersey Department of Labor and Workforce Development Division of Vocational Rehabilitation Services is the state coordinator of all Project SEARCH programs in New Jersey. Through the course of an academic year, Project SEARCH students participate in employment related instruction and rotate through two to three internships that are individually crafted to capitalize on each student's individual interests and vocational goals and potential. The on-site team, student, family, vocational rehabilitation counselor, and school representatives meet regularly to discuss issues, progress, and career goals. Graduates are prepared to meet employer expectations and to move into a job development phase. Graduates leave the program with a professional portfolio which includes a resume, solid professional references, recommendations and real-world work experience. According to 2013-14 Project SEARCH data, these program have placed over 73% of their graduates into employment.
Project SEARCH kick off events were held today at three sites Holy Name Medical Center in Teaneck, Hackensack University Medical Center in Hackensack, and Kennedy Health in Cherry Hill. Since its inception, Project SEARCH has grown from a single program at Cincinnati Children's to over 300 sites across the United States and Canada, England, Scotland, Ireland, and Australia.
To learn more about the NJ Department of Labor's Division of Vocational Rehabilitation Services, visit careerconnections.nj.gov/DVRS.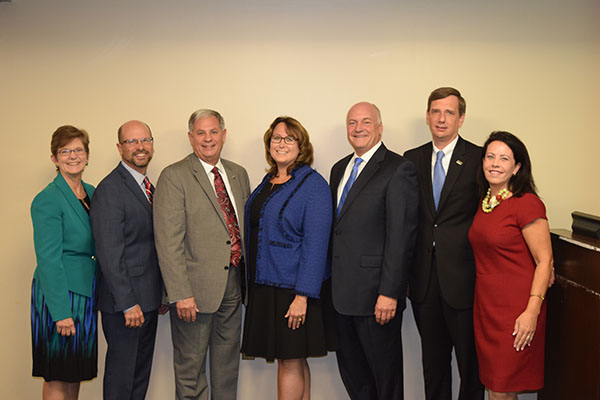 Alice Hunnicutt, Director, Division of Vocational Rehabilitation Services; Dr. Howard Lerner,
Superintendent, Bergen County Special Services; Bergen County Executive James J. Tedesco III;
Tracy S. Zur, Vice Chairwoman, Bergen County Board of Chosen Freeholders; Michael Maron, President
and CEO, Holy Name Medical Center; Acting Labor Commissioner Aaron R. Fichtner, Ph.D.;
and Tammy Molinelli, Executive Director, Bergen County Workforce Development Board.