Farm Workers in NJ: Rights and Protections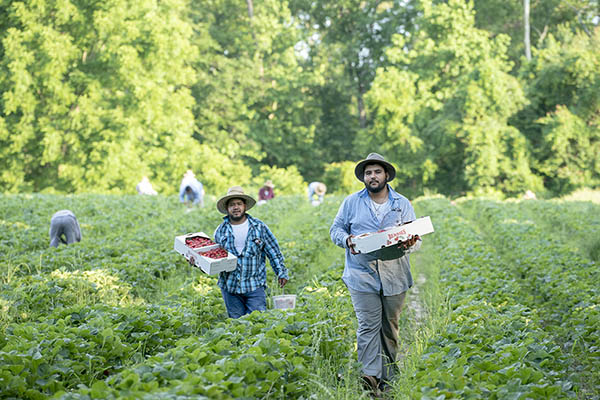 The New Jersey Department of Labor & Workforce Development (NJDOL) is committed to assisting and protecting farm workers in New Jersey, regardless of immigration status.
Your work rights depend on your situation. Are you here from another state for seasonal work or do you live in New Jersey year-round? Do you have an H-2A visa?
Under New Jersey law, all farm workers have the following rights and protections:
Pay for all hours worked; the wage promised by your employer and no less than the State agricultural minimum wage of $11.05/hour as of 1/1/22, regardless of whether you're paid by the day, week, or piece rate
No illegal deductions; for example, broken tools, housing, or transportation
Up to 40 hours of Earned Sick Leave to care for yourself or a loved one
If employed by a crew leader, they must be registered, give you a copy of your employment terms, carry workers' compensation insurance (or receive it from the farm), and provide safe transit in a registered/insured vehicle
Correct employment status; workers paid off the books can be improperly denied rights and benefits
The rights under New Jersey law (as outlined in the section above) apply to you.
In addition, if you are an H-2A worker, or work on a farm with H-2A workers, know your rights.
A poster titled "Employee Rights Under the H-2A Program" must be posted in a conspicuous place on any farm employing H-2A workers. See the poster in English, Spanish (español), and Haitian Creole (Kreyòl Ayisyen).
Reach out to NJDOL with any questions about these rights at farms@dol.nj.gov or call 609-292-2305 and our staff will assist and refer you to USDOL if needed.
In-person services at One-Stop Career Centers are currently by appointment ONLY. No walk-ins will be accepted.
Staff at the following locations can help migrant seasonal farm workers in their native language, and provide support services, including job search, training help and filing a wage complaint.
Atlantic County One-Stop Career Center: 609-485-0052, 2 South Main Street, Pleasantville, New Jersey 08232
Cumberland County One-Stop Career Center: 856-696-6600, 3322 College Drive, PO Box 1500, Vineland, NJ 08362
Gloucester County One-Stop Career Center: 856-384-3700, 1480 Tanyard Road, Suite A, Sewell, NJ. 08080
Somerset County One-Stop Career Center: 908-541-5780, 75 Veterans Memorial Drive East, Somerville, NJ 08876
You can also email msfw@dol.nj.gov for help and someone will get back to you.
Employer or crew leader housing must be safe and healthy. Per federal law, housing must:
Be well-built and protected from wind, rain, ground dampness, and fire hazards
Provide sleeping areas free of vermin and infectious/contagious matter
Have well-ventilated rooms, clean kitchen/bathrooms, and floors free of dirt/garbage
To make a housing violation complaint, call USDOL at 609-538-8310 (southern NJ) or 908-317-8611 (northern NJ).
For health and safety violations:
If you believe that your employer has created an unhealthy or unsafe workplace, click here to learn how to file a complaint.
For wage violations:
Keep track of the hours you worked, pay, and employer's contact information. You can make a complaint through our secure online form or call 609-292-2305. Have questions? Email farms@dol.nj.gov.
For all complaints:
A trusted person can help you file a complaint or contact the New Jersey Department of Labor (NJDOL) on your behalf. NJDOL also has multilingual staff who can help.
You can choose to file a complaint anonymously, but you will not get status updates about your complaint and neither you nor anyone else will receive any information about the complaint.
It's against the law for employers to retaliate against you for filing a complaint. NJDOL can issue penalties and fines against employers that do not comply with the law.
NJDOL will not share any information from an investigation with any federal immigration agency, unless legally required to do so. NJDOL employees do not ask about immigration or citizenship status and serve all workers regardless of immigration status.

Additionally, your identity and other personally identifiable information are protected from disclosure to your employer and others, with limited exceptions. For more information, click here.
Sexual harassment and discrimination are against the law in New Jersey.
It is unlawful for your employer to make acceptance of sexual advances a condition of your employment or promotions, or to retaliate against you because you have refused such advances.
It is also against the law for an employer, a co-worker or a crew leader to make unwelcome sexual comments or otherwise treat you differently based on your gender (including pregnancy), race, nationality, gender identity, and more.
This law is enforced by the NJ Division on Civil Rights. Please visit their web site for more information or to file a complaint.
Our Division of Workers' Compensation handles all matters regarding injuries sustained while on the job.
You may also wish to consult a workers' compensation attorney.
Paid Sick Leave: up to 40 hours of Earned Sick Leave under NJ law (employer can decide to provide 40 hours up front or worker accrues at 1 hour per 30 hours worked).
Job-protected family leave: to care for a child due to a public health emergency school or daycare closure during a state of emergency; care for a family member, or someone who is the equivalent of a family member, with a serious health condition or who has been isolated or quarantined because of suspected exposure to a communicable disease; or care for or bond with a child, as long as the leave begins within 1 year of the child's birth or placement for adoption or foster care. Learn more about the NJ Family Leave Act at njcivilrights.gov.


Unemployment Insurance: if you lose your job or work hours through no fault of your own. You must have earned a certain amount and be authorized to work in the U.S. Learn more at myunemployment.nj.gov.


NJ Family Leave Insurance & Temporary Disability Insurance: if you cannot work because you must care for your own or a loved one's illness or injury, bond with a new child, or recover from pregnancy/childbirth. You must have earned a certain amount to be eligible, and the application requires a valid social security number. Learn more about these programs at myleavebenefits.nj.gov.