It would.
The improvements and other benefits that the host community receives can make it a better place to live, and to raise a family.
Property Values, Taxes & Open Space. Whether your community chooses to use the benefit funds to
establish a land preservation trust to preserve thousands of acres of farmland open space;
lower property taxes;
establish a scholarship fund for all local high school graduates;
establish a fund to support your public schools; or
meeting other pressing needs in your immediate area,
hosting the disposal facility will improve life for you and your family - and will probably be factors you will want to advertise should you ever decide to sell your property.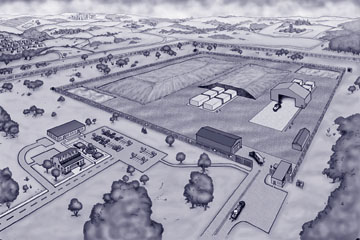 Traffic. About 100 trucks a year, an average of two a week, will travel through your community carrying solid waste to the disposal facility. Whether you and others notice these trucks will depend on the amount of industrial and commercial traffic that is already in your area. In any case, the trucks will travel along a route and on a schedule that has been agreed to by your community leaders.

Education. School groups and others may want to tour the disposal facility to learn more about this new local light industry, and about waste disposal, radiation, environmental responsibility and related topics.

Fame. For a while, your town may get more attention than it used to from the media and from
some outside groups. People will want to know how your town was able to explore the opportunity to host this facility and to voluntarily decide to take it. Activists will want to make sure that you are aware of everything about the facility that could possibly go wrong. Everyone will want to ensure that the government agencies involved keep their promises to you.

Growth. Your community will have a choice. It might be attracted to the disposal facility as a means of limiting further development and helping to retain community character. Or it might choose to make the disposal facility the anchor of a research, technology or industrial park. If this is your preference, and the site in your community is large enough, many new local jobs could be created.