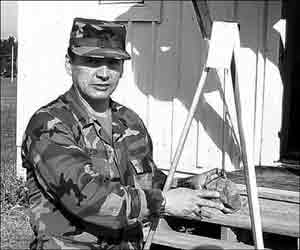 After two weeks of accurate and outstanding weather forecasting for Headquarters State Area Command at AT 2001, Fort Drum, N.Y., Sgt. Hernando Coy, United State Property and Fiscal Office, was surprised and somewhat embarrassed to find that Chief Warrant Officer 4 Harry McCurdy, Department of Logistics, had discovered his secret. Chief McCurdy had found Sgt. Coy's improvised weather forecasting system on Division Hill, behind building 2314. The system consists of a large gray rock suspended from a government issue tripod. The following written instructions were attached to the tripod:

The Weather Rock Property of SGT H. Coy

Operating Instructions: If it is wet, it's raining; If it is dry, it's clear; If it is white, it's snowing; If it is hot, it's sunny; If you can't see it, it's dark out; If it is swinging, it's windy; And, if it is missing, it's a tornado!