GUARDLIFE ::
Vol 28, No. 1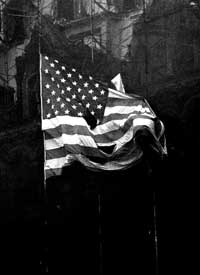 GUARDLIFE STAFF
Editor
Col. John Dwyer
Assistant Editor-Production
Tech. Sgt. Mark C. Olsen
Photographer
Master Sgt. Don Taggart
Writers
1st Lt. Jon Powers
Staff Sgt. Robert Stephenson
GUARDLIFE is a product of the NJDMAVA Public Affairs Office, the 444th Mobile Public Affairs Detachment, the 177th Fighter Wing, and the 108th Air Refueling Wing Public Affairs Offices. GUARDLIFE is published under provisions of AR 360-81 and AFR 190-7. Opinions expressed in GUARDLIFE are not to be considered the official view of this headquarters, the Department of the Army or Air Force. This is printed via the photo offset process. Letters may be sent to: GUARDLIFE, Public Affairs Office, P.O. Box 340, Department of Military and Veterans Affairs, Trenton, New Jersey, 08625-0340. E-mail address is: OLSENM@NJDMAVA.STATE.NJ.US
About The Cover : Old Glory
The Stars and Stripes stand in starkcontrast to the destruction at theWorld Trade Center. The photowas taken on Sept. 14 by Tech.Sgt. Mark Olsen, NJDMAVA, PAO.
Photos by Staff Sgt. Mark Olsen.
Corrections no correction on last issue