Fort Drum And You: Perfect Together

Story by Col. John Dwyer with photos by Tech. Sgt. Mark Olsen, NJDMAVA, PA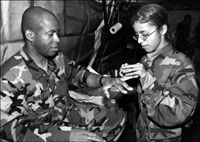 At least once a year, long green lines of New Jersey Army National Guard trucks snake from the Garden State to northern New York in a ritual that dates back at least 70 years.
Whether you call it AT, summer camp, annual encampment or Annual Training, the NJARNG has been going to Fort Drum for a lot of years. They used to go by train, when Drum was called Pine Camp -bringing their horses, trucks and guns with them in freight cars. Then the Guard switched tothe Guard switched to driving their halftracks and jeeps up Route 11 to Camp Drum. Although it is now Fort Drum, the convoys are still with us - though the trip doesn't don't last four days anymore.
Fort Drum hosted the 50th Brigade and the 42nd DISCOM this year, and in a separate period, Company B, 1- 126th Aviation. AT highlights included two "firsts." The first successful completion of Tank Table 12 by the 5-117th Cavalry, with four tanks firing and maneuvering simultaneously downrange. And second, the 1-114th Infantry conducting a live-fire mechanized attack on the assault course on Range 44. Fort Drum also marked the last flights for the AH-1 Cobra gunships of the 5-117th (RIARNG) Cavalry air troops.
With many DISCOM soldiers deployed around the world, the mission of supporting 50th Brigade operations fell to a combined logistical task force from DISCOM, the 50th Main Support Battalion, and the 250th Forward Support Battalion. Medics treated injuries, illnesses, and allergies; while fuel, ammunition, spare parts and rations were distributed by supply wizards; and maintainers managed to keep it all running.
Field Artillery soldiers "beat the Drum" one moretime, sending hundreds of projectiles downrange in response to digitally transmitted calls for fire. They also fired Copperhead laser guided projectiles – the second time the battalion has had the opportunity to fire live guided munitions in their history.
Tankers from the 1-102nd Armor and troopers from the 5-117th Cavalry not only conducted range firing, but fought force-on-force "battles" across the plains of upstate New York. When not practicing for tank tables M-1 tanks and M-113 armored personnel carriers maneuvered through and over more than 700 acres of woods, grasslands, and dusty roads attempting to gain advantage over the "enemy." Operations officers and unit commanders acted as umpires to determine who won each of the engagements.
Later in the season, Company B, 1st Battalion, 126th Aviation deployed to Drum for the first time in more than eight years. Acting aspart of an aviation task force, the pilots and aircrew served as a lift unit for troop insertion, evacuation, and airmobile assault. In cooperation with 5-117 Cavalry Cobra gunships, the 126th dropped troops on a "hot landing zone," conducted night-vision-goggle flight training, and performed cross country navigation exercises. For many of the troops, this was their first time at Fort Drum, and they were surprised by the amount of real estate available for low-level flights. With the six AH-1 Cobras and six UH-1 Hueys operating together, this Annual Training was the last time that so many "legacy" aircraft were operating simultaneously.
Most importantly, there were no serious injuries and all were able to return home to prepare for next year at Fort Drum.