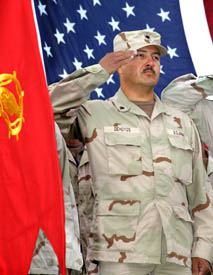 Guardlife Staff
Editors
Lt. Col. Roberta Niedt
Maj. Kris Frazier
1st Lt. Luz Apontè

Assistant Editor-Production
Tech. Sgt. Mark C. Olsen

Staff Photographer
Tech. Sgt. Shawn Mildren

Staff Writers
Roman Martyniuk
Staff Sgt. Barbara Harbison
Guardlife is published quarterly using federal funds under provisions of AR 360-1 and AFI 35-101 by the Public Affairs Office of the New Jersey Department of Military and Veterans Affairs for all members of the New Jersey Army and Air National Guard. The views and opinions expressed herein are not necessarily those of the Department of Defense, the Army, the Air Force or the National Guard Bureau.
About The Cover
"253rd Returns Home"
Spc. Wilfredo Dehoyos, 253rd Transportation Company, salutes during the Welcome Home Ceremony at Cape May Courthouse. Photo by Tech. Sgt. Mark Olsen, NJDMAVA/PA.
Letters may be sent to:
Guardlife, Public Affairs Office, P.O. Box 340, NJDMAVA, Trenton, NJ, 08625-0340.
E-mail:
mark.olsen@njdmava.state.nj.us