By Roman Martyniuk, NJDMAVA/PA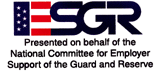 Since September 11, 2001, more than 4,000 New Jersey National Guard soldiers and airmen have been mobilized for federal active duty service in support of Homeland Defense or Homeland Security missions.
These soldiers and airmen responded to a national emergency; serving honorably around the world. And now, their active duty service obligations satisfied; their mission accomplished; their mobilization over; our troops are coming home and returning to their civilian workplace.
But not since World War II has this large a number of mobilized citizen-soldiers returned to the workplace after an absence of up to two years. In the days of an allvolunteer force, one might assume an absence of conflict between military service and other, primary obligations to family and employer. But as we have heard so often, The soldier may have volunteered... but the family and employer didnít volunteer.
The ESGR (Employer Support of the Guard and Reserve) Committee provides guidance and assistance to both citizen-soldiers and their civilian employers to help prevent any frictions that may arise between military service obligations and the civilian career. This support mechanism carries over into periods of mobilization and deployment. Employer obligations to their employees are clearly defined and enjoy the benefit of strict guidance from federal law. Title 38 USC, USERRA (Uniformed Services Employment Re-Employment Rights Act), and the Soldiers and Sailors Civil Relief Act provide a comprehensive road map on how to deal with most military service/workplace contingencies.
However, given the unprecedented numbers of Guardsmen and Reservists mobilized for the ongoing war against global terror, Homeland Security, and Homeland Defense missions, the magnitude of the impact on families and employers alike also, has been unprecedented.
The transition process of converting citizens to soldiers is adequately addressed during pre-mobilization training and mobilization. But there is no formal training for employers who have little experience in re-assimilating employees returning from combat or other military duty.
To begin to address these concerns and issues, the New Jersey Business & Industry Association (NJBIA) together with the New Jersey League of Municipalities
(NJLOM) in conjunction with the New Jersey Department of Military and Veterans Affairs and the New Jersey Committee for Employer Support of the Guard and Reserve will be conducting a seminar at the Foresgate Country Club on Mar. 11 designed to provide employers with information that can assist them through the
re-assimilation process.
With the return of several NJARNG units, ESGR and NJDMAVA were provided a unique opportunity to observe and analyze the re-assimilation phenomenon and begin to assemble information based upon the actual experiences of returning troops and their civilian employers.
Bill Dressel, Executive Director, NJLOM, stated "With large numbers of municipal employees actively serving in the Guard or Reserve, municipal employers were among the hardest hit by the mobilization of specialized skill employees in the categories of police, fire, and emergency services personnel. Absences of key
personnel resulted in increased payroll expenditures and put additional strain on fellow employees who were required to pick up the slack by working extra shifts and overtime."
According to Chief Master Sgt. (Ret) Hank Pierre, Executive Administrator, NJESGR, "Civilian employers were an important part of the support team that enabled our troops to complete their active duty service successfully. Now, during "return" phase of the demobilization process, it's our turn to demonstrate our appreciation
for the solid support and many sacrifices our employer community so willingly made."