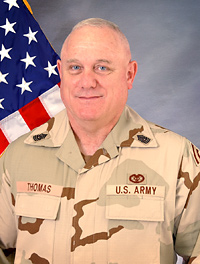 The term "Standards" has been a catch-all word that in some way affects every individual in the military today. Standards in the military can trace their origin back to the pre-Revolutionary war when Citizen-Soldiers were called upon to face the challenge of building a new nation out of a wilderness. In the initial stage of developing an army, certain individuals were unknowingly tasked to set the example for the newly fledgling Continental Army of militiamen. These individuals were appropriately called " Leaders."
Never in our nation's history have Soldiers faced the unique challenges they face today. To deal with these challenges, today's leaders need to remember that NCOs are charged to set and maintain standards.
Standards are enforced by conveying the reasons for standards in a teaching manner and setting the example. Setting and maintaining standards instill discipline. Disciplined Soldiers tackle challenges head-on. Undisciplined Soldiers, those unsure of standards, may buckle under pressures caused by challenging
situations. NCOs, since the days of the Revolutionary War, have had to prepare Soldiers for unexpected challenges by enforcing established standards.
In today's operating environment, conditions change rapidly. Soldiers, trained to standard under varying and diverse conditions, can readily shift their efforts as conditions dictate. NCOs must never forget that they are charged to enforce and maintain standards. Since 1779, NCOs have accepted this challenge and executed
their duties in all situations. NCO's are responsible for training Soldiers to standard while maintaining set standards themselves and leading from the front. An Army cannot exist without this fundamental element. As Rudyard Kipling wrote in The Earthen, " The backbone of the Army is the noncommissioned man."
Standards had a different meaning for Soldiers and NCOs of the New Jersey Army National Guard while serving at their home station or participating in Annual Training. NJARNG Soldiers constantly trained to standard on tasks to become
proficient in the established tasks to assist them in accomplishing their mission and to assume a sense of pride and satisfaction in these accomplishments. Today, these same NJARNG Soldiers from the 42nd Division Support Command have seen
the sense of urgency and commitment that comes with setting standards in all tasks. The NCO's of the 42nd Division Support Command have realized that enforcing standards means more than accomplishing the mission. To these NCO's it means by enforcing the tough standards that are established in a combat zone such as Iraq, they will help keep their Soldiers safe while accomplishing difficult missions. It means taking no deviation from enforcing the standards for wearing seatbelts on Combat Logistic Patrols (CLP's) or properly clearing your weapon in the prescribed, safe manner. It means wearing your Kevlar Helmet, ballistic eyewear, earplugs and your Interceptor Body Armor (IBA) with SAPI plates in 100 degree heat to set the example for your Soldiers. Rehearsing Battle Drills every day before an upcoming CLP may become tedious in nature, but maintaining this
standard ensures that every Soldier will respond in the correct manner by instinct when called upon to do so. NCO's have learned that shortcuts do not save lives, only standards do.
The Soldiers and NCO's of the 42nd Division Support Command have met and accomplished some extraordinary challenges in our path to Operation Iraqi Freedom III. We will make our mark on world history with our own special contributions to bringing democracy to Iraq. I have challenged every Soldier and NCO in the 42nd Division Support Command to ensure that the Soldier standards
that have been set in this Area of Operations are maintained and enforced by every NCO within this Command. These Citizen-Soldiers from New Jersey continue to establish new and higher standards of professionalism and commitment while they proudly serve our state and the nation.
The family members of these fine, patriotic Soldiers can be very proud of their loved ones. They are "First in Support".