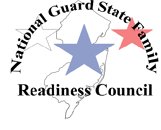 FRC Celebrates Anniversary And Offers Grants
By Roman Martyniuk, NJDMAVA/PA
The New Jersey State Family Readiness Council (NJSFRC), which celebrated its first anniversary in March, is comprised of more than 20 members representing a cross section of New Jersey spanning the corporate, business and employer community;
veterans and service organizations and private citizens. The NJSFRC has raised more than $100,000 dollars to benefit family programs. The Council sponsored the very successful Family Day at Sea Girt and has supported each of the Salute the
Troops/Welcome Home events for deploying/ returning New Jersey Guard units.
The Council has established a new Family Readiness Grant Program that will provide both Family and Business Grant opportunities to deserving National Guard families adversely impacted by deployment. According to Linda Rieth, Council Cochair, " This is another very important way we can show our support both for our troops and the families who have had to shoulder additional burdens as a
result of mobilizations and extended deployments."
Eligibility criteria includes unforeseen emergencies, financial hardships and quality of life issues. Business grants are up to $5,000 and family grants $2,500. Those interested should contact their local Family Assistance through the hotline at 1-888-859-0352.
Additional information is on the Council's website at: help@njguardsfamilies.com